Welcome to today's Affordable Friday! I really want to show you guys some super fun summer dresses, especially great vacation dresses! When I ordered these, they came to my house within a few days so if you have a vacation coming up order quick! Oh, and I say to order quick not because they won't arrive quickly, but because they'll probably sell out quickly! Let's get into it!
Maxi Dress
Gosh, I don't even know where to begin, but I guess I will start with this one shoulder maxi dress that's only $23! I wore it to a beautiful dinner that I went to in Turks and Caicos and I am IN LOOOOOVE! First, I am in love with a color! It's just so rich and beautiful. It also comes in black and a pink color if you want something different. Some of the reviews say it run big. I don't agree at all. I'm wearing a size medium, which is my normal size and the fit is perfect. Honestly can't really go wrong with the fit because it's got a ton of room and then you use a little fabric tie to tighten it around your waist. So I probably could've gone down inside and been fine too, just in case your size sells out and you wanna try something different.
I also wanted to mention that I am wearing a bralette with this dress and the pink dress below because I hate wearing strapless bras and I wanted to be comfortable. Any skinny strapped bralette would work for this!

1. BEAUTIFUL ONE SHOULDER DRESS | 2. SIMILAR GOLD BELT | 3. SANDALS
This dress will be so beautiful, dressed up with some gold jewelry for a fancy event. I'm wearing it with this stack of gold beaded bracelets that are only $5 for the ENTIRE stack! Or it could be paired with wedges and a sun hat for a casual brunch. I also paired it with these super affordable and versatile sandals for only $12!

1. BEAUTIFUL ONE SHOULDER DRESS | 2. SIMILAR GOLD BELT | 3. SANDALS
$5 Gold Beaded Bracelet Stack
Real quick going back to the stack of beaded bracelets. You might recognize these because I bought them and wore them on my cruise that I went on in December. While I was on the cruise, a nail technician told me that she loved them so I took them off my wrist and gave them to her! But I missed them, so I bought another set! Best $5 I ever spent to make someone's day! Then I could easily spend another $5.88 to buy myself another stack.
Gorgeous Pink Slip Dress
I want to stick on the topic of vacation outfit ideas, so next I'm going to talk about this gorgeous pink slip dress that I wore on my vacation and got SOOOO many compliments on! I almost didn't get it because I didn't think I'd like the fit. But I LOVE everything about it. I love how it lays on my body. It somehow hugs my curves, but it's also loose and flattering and I don't even know how that's possible, but this dress figured it out. Ha! Check out the reviews because it only has five star reviews which is incredible and it's under $18!

1. PINK SLIP DRESS | 2. GOLD $5 BRACELET STACK | 3. SIMILAR GOLD BELT | 4. SANDALS
It comes in a bunch of other colors as well. 8 total to be exact! I just think the black would be perfect for a fancy event, the prints would be lovely for more casual events and then the solid blue, pink and yellow are just so so so fun for vacation! I wore it with brown sandals FYI (even though I don't have them on in these pics)

1. PINK SLIP DRESS | 2. GOLD $5 BRACELET STACK | 3. SIMILAR GOLD BELT | 4. SANDALS
I wasn't sure what size to get because the reviews say it runs a little big or at least one of the reviews said that. But I went ahead and got my normal size medium and I think it fits great.
Vacation Cover Up
Oh my gosh, while I'm on the topic of vacation, get this cover up as fast as you can! I am SOOOO bummed I never got a pic of me wearing it on our trip! It was my FAVE! It comes in three sizes, S/M, L/XL, and 2XL/3XL. I got the S/M. I think it looks so so so so expensive! I know I say that a lot, but oh my gosh it does! The cover up is on clearance right now for $11.65 so put it in your cart right now because it's gonna go so fast! It also comes in a natural tan color, but that's only available in one size. Whereas the black that I'm wearing is currently fully in stock!
Classy Dress with Clean Lines
Okay, moving on to another fun pink dress! I got the pink because pink makes me happy, but it also comes in three other colors including black. It is available in size XS to XXXL. I almost didn't get this dress because on the model, I feel like it just looked kind of drab and plain. But my goodness, does it looks so classy and beautiful on in person! One thing I really learned over the years of being in a business where online shopping is part of my job is that you really can't ever trust the model photos online. But not because the model photos make the item look better on Walmart. I actually think the model photos make the items look worse. Ha! They are so much better in person. So I'm glad I can at least model this dress for you guys so you can see how beautiful it is!

I love the clean lines and the way the fabric looks so refined. A deal at only $24! I think it looks so so so so so much more expensive! Oh and it also has a higher neck line than most v-neck dresses which I know some appreciate!
Fun and Flirty Summer Dress
This next dress is similar to the one I just talked about, but it's like the more casual version of that dress. The first one has really clean lines and it's classy. Whereas this one is more fun and flirty. I love the little eyelet sleeves, and the buttons down the front. I'm wearing the Dark Navy, but it comes in light pink and white and is available in size XS to XXXL. I'm wearing a size medium, which is my normal size and it fits great. This is just another really beautiful pretty summer dress to have in your closet! I even think the white could be a really pretty dress for a bride to wear to any more casual events leading up to her wedding.

Simple Black Dress
I got this next dress because I thought it would just be a really beautiful and delicate looking simple, black dress. Oh my gosh, I have to say I was right! Ha! I got the black, but it also comes in pink and green in the cotton material and then also in a denim fabric. I can't speak to the denim fabric because I don't have it but I love love love the black. It's simple and beautiful. If I didn't already have a green dress that I brought this summer to wear from Walmart, which sold out last time I posted about it, I would've bought this dress in green because it's just got a really beautiful simplicity to it that I love. I could see myself dressing this black dress up to go out at night or even just wearing it out to the garden to gather vegetables. It's just so versatile and only $24.98!

I actually ended up ordering this in a small. I don't even really know why, and it fits nice to be honest. I think my normal size which is a size medium would've been really pretty too and even more comfy and casual looking. But I don't think you can go wrong either getting your normal size or sizing down one.
Pretty Floral Dress
I'm realizing there's a lot of dresses in this blog. Clearly I was inspired by dresses this week! This next one is another absolute beauty! It's only $24, comes in size XS to XXXL, and fits amazing! It comes in black in another print but I got this beautiful light blue floral print. I think this would make a really pretty dress to wear to a baby shower or even your own baby shower! The rouching in the middle is a stretchy material so it will easily fit different way sizes. You don't have to worry too much about size, but I am wearing a size medium, which is my normal size.
A Few Tops
A few tops before I go! This first one by Time and True is only $15.98 and so so so good. It comes in size XS the XXXL and I am wearing a size medium, which is my normal size. This top also comes in three other colors/prints that are also pretty that you should totally check out if this color isn't for you. But I love the softness of it, and had to share it with you guys!

1. FLORAL TOP | 2. SANDALS
Then this next top is something I would normally wear with jean shorts but I wanted to show it to you guys wearing it with loose-fitting pants only because I totally think this outfit is some thing that my mom would love to wear and she's 67! I always want my Affordable Friday blogs to be not only size inclusive, age inclusive! So I wanted to show it this way, but you can also wear it with jean shorts!
Plus the top sale for only $10 so quickly snag it because it will sell out fast! It's available in size is XS to XXXL. I decided to get a size small in this top just because of the style. I thought it would work better for me even though my normal size is a medium. I love how the small fits. So I would recommend sizing down on this one.

1. FLOWY TOP | 2. PANTS | 3. SANDALS
The reviews are really good too. There's one negative one, but it kind of seems like maybe it's a disgruntled customer and doesn't actually have to do with the shirt. I would ignore it and read the other reviews were everyone just absolutely loves it just like I do! But like I said, others also recommend to size down and for me sizing down was the perfect fit! It also comes another color, so check those out, but snag it quick because the fact that it's only $10 on sale means it will not last.
Past Look Back in Stock!
This next look as what I've shared before. I have both of these tops in both the blue and the pink and I love love love them! I find I'm always looking for nice solid colors to wear and these tanks are perfect. Plus they're each only $12.99! I'm wearing a size medium which is my normal size and the fit is great! I love that you can tuck them in like I am in these photos, but then they have really good length and are loose in flowy so that you can untucked them and not feel self-conscious whatsoever about your tummy area. I personally like to eat a big lunch and not have to think about my waist line. Ha!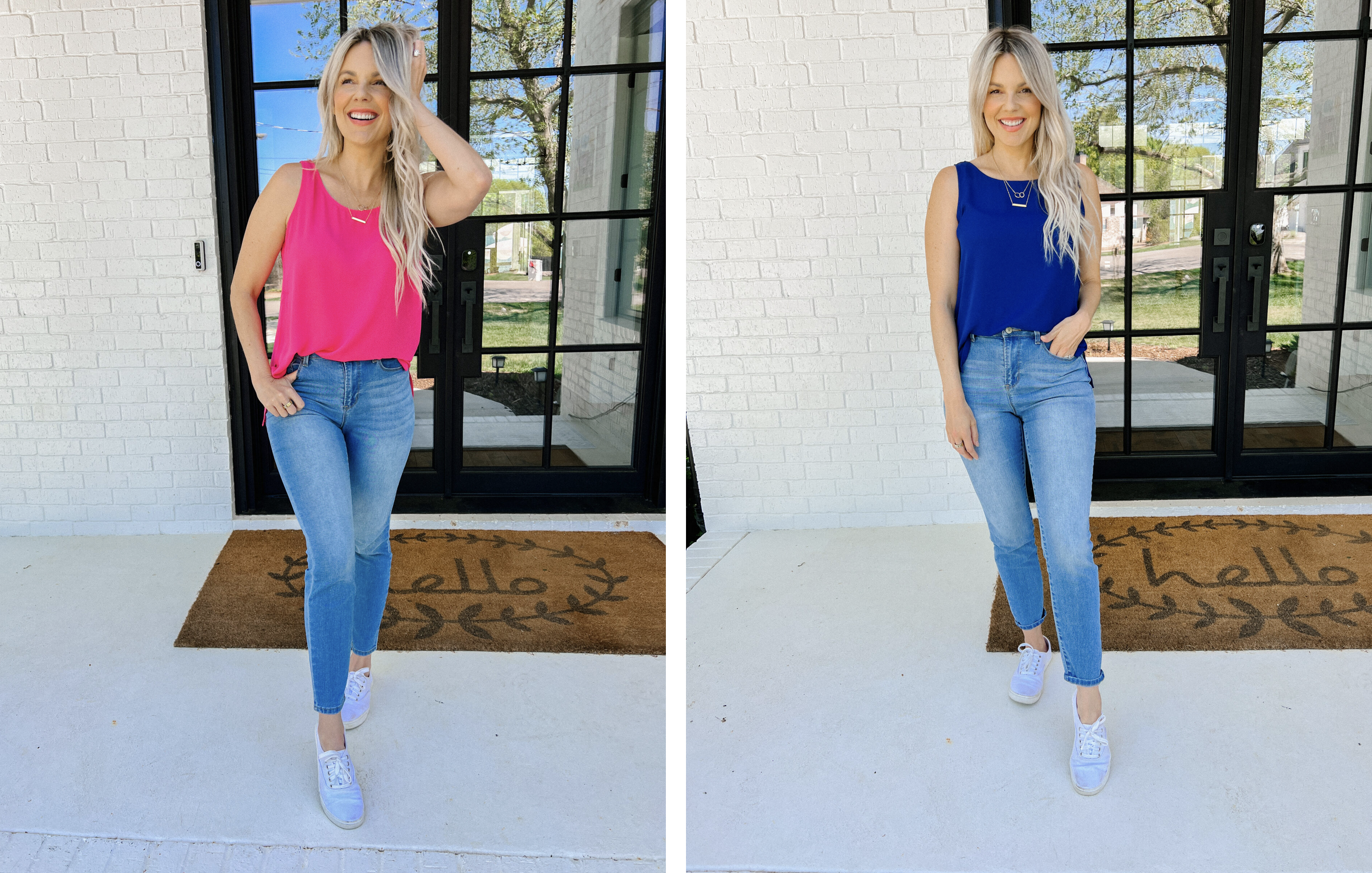 1. PINK TANK | 2. BLUE TANK | 3. JEGGINGS | 4. SNEAKERS
Thanks so much for being here. Read my blog. I love writing these affordable Friday blogs more than I could ever really explain. It makes me so happy to find beautiful affordable clothes that are well-made. It will last you for years to come that won't hurt your budget! Love you guys! Have a great weekend!
Have a Wonderful Weekend!