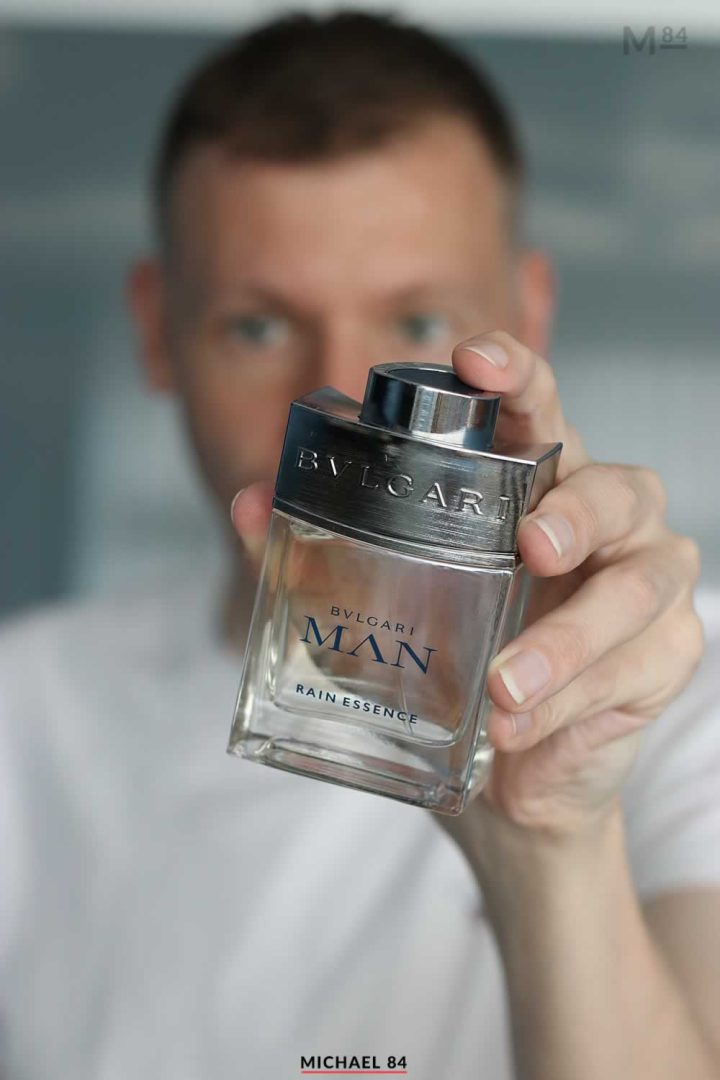 It's a good time to get a new fragrance, last week I showcased one and this week I have another, this is Bvlgari MAN Rain Essence.
When I first heard about this new scent I knew I had to try it, it sounded like one I'd like.
I have a few from the Bvlgari MAN line, and the vast majority have been good. This is a new scent for 2023, so how does it stack up?
Here's my thoughts on Rain Essence, including how it smells and if it's worth getting.
My history with Bvlgari MAN fragrances has been a good one. I absolutely loved the original, and in fact still do. I would go so far to say that the original Bvlgari MAN is one of my favourite fragrances of all time, certainly in the top 10.
I also own MAN In Black, Wood Essence and Glacial Essence, but in my opinion the original Bvlgari MAN is the best in the line. That was before I got Rain Essence, so how does it fair?
What Does Bvlgari MAN Rain Essence Smell Like?
When I first tried Bvlgari MAN Rain Essence I really liked it. Rain Essence smells fresh, green and ozonic, which it gets from the green tea, orange, musk and white lotus notes. It has some amber and woods which give it a slightly soft woody and amber base, but overall I'd say this is a green fresh scent, so kind of does the name justice.
This reminds me of another Bvlgari fragrance which is sadly discontinued, Bvlgari Pour Homme Soir. It's been years since I last tried that, but this has a kind of similar style to that scent, another which I really liked.
If you're thinking that Rain Essence might smell like that summer rain smell you get, it doesn't. It's clean, and strays more into the orange citrus and green tea, rather than being purely aquatic. This is something I like, giving the scent some dimension.
As mentioned I loved the original from the MAN line, MAN In Black was also good, but I feel in recent years the MAN line hasn't lived up to those two. Rain Essence is a step back in the right direction.
How Long Does Bvlgari MAN Rain Essence Last?
Even though Rain Essence is a fresh and lighter scent it lasts longer than many other of it's competitors. I was able to smell this for 5 or 6 hours after spraying, which I was happy with. This is an EDP as is most others in the MAN line these days.
I am happy with the performance of this. It may not last an entire work day, but for a summer fragrance on a night out, it should last the duration.
How Strong Is Bvlgari MAN Rain Essence?
The projection of Rain Essence is good. People in the room could smell that I was wearing it, so it does project well. Those around will smell it too, and since it's not a really pungent smell it's quite inoffensive and pleasant to be around.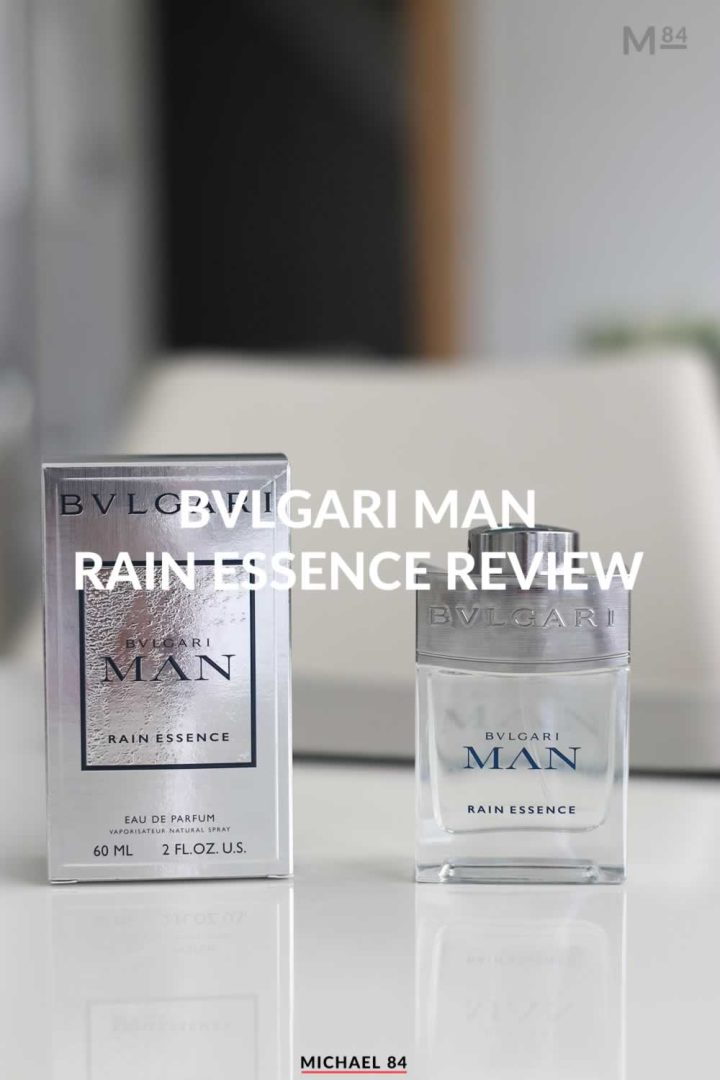 The Bvlgari MAN Rain Essence Bottle
There's no surprise in the Bvlgari MAN Rain Essence bottle if you've seen the rest of the line. It follow suit.
We have a rectangular glass bottle with plastic silver chrome top with the Bvlgari wording embossed. The wording on the glass is written in blue in it's usual clean style.
Bottles come in 60ml and 100ml sizes, priced at £81 and £111 respectively. I have got the 60ml bottle which I got for my birthday recently, and what a great present it was.
What Clothes To Wear With Bvlgari MAN Rain Essence
When it comes to pairing Rain Essence with clothing, I think it can be paired with a lot. From a casual t-shirt to a clean white shirt, it works in both a casual and formal dress code.
It doesn't have that super funky fun type of vibe to it that you might get some something extra fruity or citrusy, it's a clean scent and should be matched with some clean cut clothing.
When To Wear Bvlgari MAN Rain Essence
When it comes to fresh fragrances, you can wear them at any time, but I usually reserve these for spring and summer. The cool spring weather will be fantastic with this scent as it cuts through the air, and when it's hot in the summer, it will keep you smelling good.
Formal or casual, it can work in both settings. It's not super powerful and imposing, so works for most situations you'll find yourself in.
Who Is Bvlgari MAN Rain Essence For?
I feel that Rain Essence is suited to almost everyone. It's universal, inoffensive and is just a really pleasant scent. It's modern and masculine, and it has that sophistication that makes it worthy of a grown up scent. You can go younger, but I'd say that to appreciate this scent it's one for the over 18's or even over 21's.
If you're in the older age bracket it's a very good fragrance for when you just want to smell good without making a fuss.
Bvlgari MAN Rain Essence Key Takeaways
Pros
Fantastic fresh green fragrance
Still new so will be fairly unique to wear among friends
A reasonably unique style of fragrance
Cons
May be expensive for some people
Doesn't have that super powerful impact being a fresh scent
Bvlgari MAN Rain Essence Details
Best season to wear – Spring/Summer
Scent type – Fresh, Green, Ozonic, Slightly Woody
Age Recommendation – 18+
Best Worn – Day, Evening, Formal, Casual
Longevity – I was able to get 5-6 hours of smell with Rain Essence which is fairly good for a fresh scent. This is an EDP so should last for a reasonable length of time.
Projection – The projection is very good for a fresh scent. Those in the room will be able to smell it, as well as those around you.
Top Notes: Green Tea, Orange
Middle Notes: Musk, White Lotus
Base Notes: Amber, Woods
Verdict – Is Bvlgari MAN Rain Essence Worth It?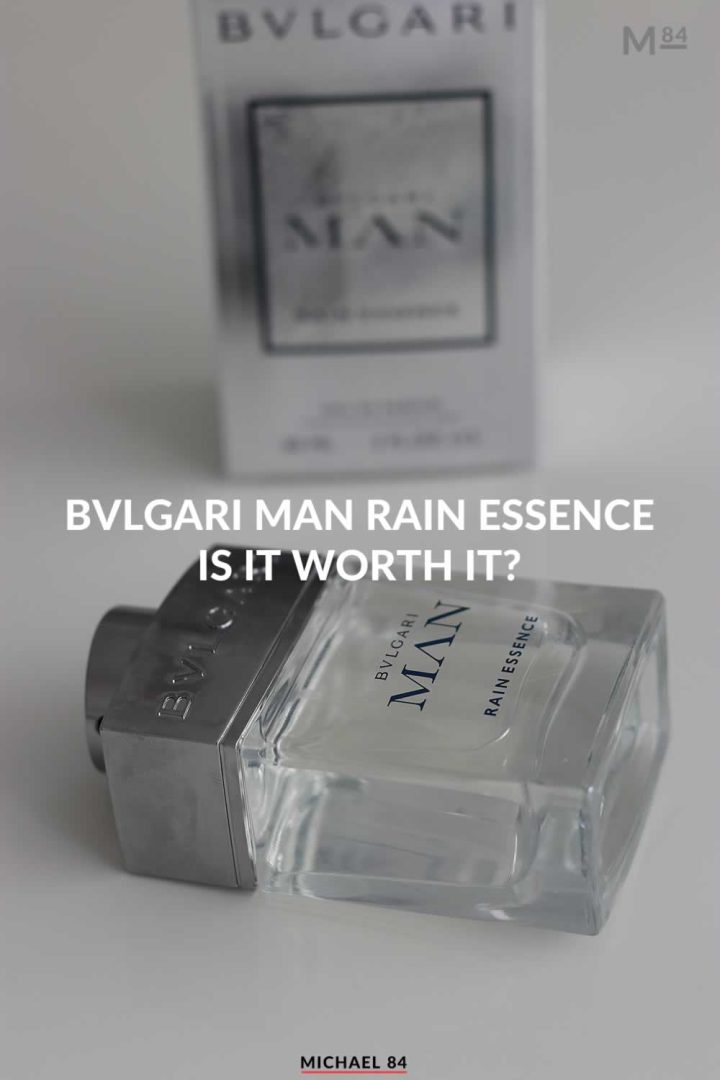 I really like Bvlgari MAN Rain Essence and happy with owning it. I have been wearing it for a few days in a row, not something I usually do since I own a lot of fragrances.
It's a really good scent, and is already becoming one of my favourite fresh green scents in my collection.
The biggest sticking point may be it's price – Bvlgari MAN fragrances moved to an eau de parfum strength years ago, and with that came an increase in price. You could get the old EDT bottles for around £60, with today's EDPs starting at £81.
For that money or less you can get some of the heavy hitters, such as Dior Sauvage and Bleu De Chanel.
For me Rain Essence is worth the money. I think the fragrance is good enough to justify the price, and it's one of those fragrance which I really see myself wearing regularly for a long time.
This could end up being my go to fresh scent, and could be one which I end up owning multiple bottles of in the future.
Let me know if you've tried Rain Essence and what you think of it. You can check out all my aftershave reviews if you're after a new scent, or just want to catch up on the latest and greatest men's fragrances right now.