ATLANTIC CITY — When Victor Sandoval coined the phrase "Respect Atlantic City" over a decade ago for his clothing brand, The Culprits Originals, he didn't realize it would resonate with so many people.
After registering "Respect Atlantic City 609" as a trademark in 2017, Sandoval took a three-year hiatus from creating to do a lot of "soul-searching," which included trying to figuring out what path he wanted to take in life as an artist and designer, while recuperating from the deaths of his parents during the COVID-19 pandemic.
Now, Sandoval is ready to revamp The Culprits Originals and "Respect Atlantic City" just in time for the streetwear brand's 10-year anniversary. The launch will happen later this month on The Culprits Originals website, Sandoval said.
"I say it's time to reignite it and finish what I started. I'd be a fool to not follow through with it," said Sandoval, 46, who noted he was very fortunate to be in the position he was today, with plenty of people supporting his brand.
Sandoval, 46, said he was only supposed to make 36 T-shirts in 2013 for a client who asked him to make a custom shirt that aligned with Sandoval's streetwear apparel, which had been around since 2011. He officially registered as a business in 2013.
When Sandoval pitched the "Respect Atlantic City" slogan, the client agreed to the pilot. Little did Sandoval know that would be the start of the city resident's new venture.
"We sold out immediately, and that was supposed to be the end. But for the next year, I didn't print anything, and people kept asking for it and asking for it," said Sandoval. "And that's when I realized 'Respect Atlantic City' means something differently to everyone."
Sandoval came up with the phrase "Respect Atlantic City" after deciding to create "something people could be proud of," especially locals and residents. He was inspired by artist Milton Glaser's "I Love New York" tourism slogan, which helped people show their affection for New York City, despite the rough times it was going through in the 1970s. Sandoval also saw the slogan becoming a grassroots novelty for the island, away from the casinos' "Do AC" slogan.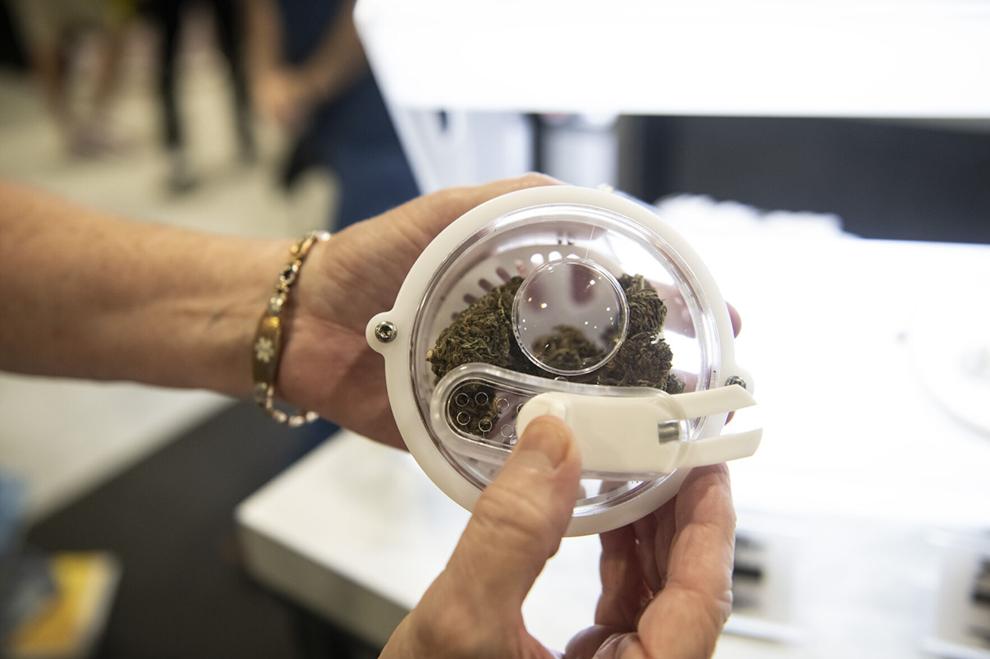 Banking, insurance and marketing specialists gathered for this year's cannabis business convention in Atlantic City. Has the outlaw weed finally gone respectable?
For Sandoval, "Respect Atlantic City" was a message that could speak to locals, visitors and businesses about respecting all aspects of the city — from its beaches and Boardwalk to its people.
With the 2008 recession hitting the country, especially the casino industry, which took a giant hit during the time he was working at the Hard Rock Cafe in the former Trump Taj Mahal Casino Resort — on top of being freshly divorced — Sandoval said the city needed that kind of hope.
Sandoval said "Respect Atlantic City" was a message for "those at the top" to keep the residents in mind when making important decisions, since the people who inhabit Atlantic City, from parents and children to casino workers to public servants, were the city's lifeblood.
"It was me wishful thinking that we have to respect the core of what Atlantic City is, and that's the people. So when decisions have to be made, do not forget that 'Respect Atlantic City' means to respect the people," he said.
Stephen Weiss, a friend of Sandoval's for the past 30 years, agreed with the message.
"His message is perfect, but 'Respect Atlantic City' has become so much more. That shirt represents our culture," said Weiss. "It's that these outside investors need to respect Atlantic City as well, that the residents of A.C. should respect their homes."
Taking inspiration from his California friends who were also developing streetwear, his Salvadorian-Los Angeles roots and his desire to better Atlantic City, Sandoval established The Culprits Originals in 2011. He registered his business in 2013.
Sandoval mixed his love for graffiti art, hardcore and hip-hop music, skateboarding and other interests associated with urban living to create a gritty, punk streetwear brand that would spread the "Respect Atlantic City" message in a casual way.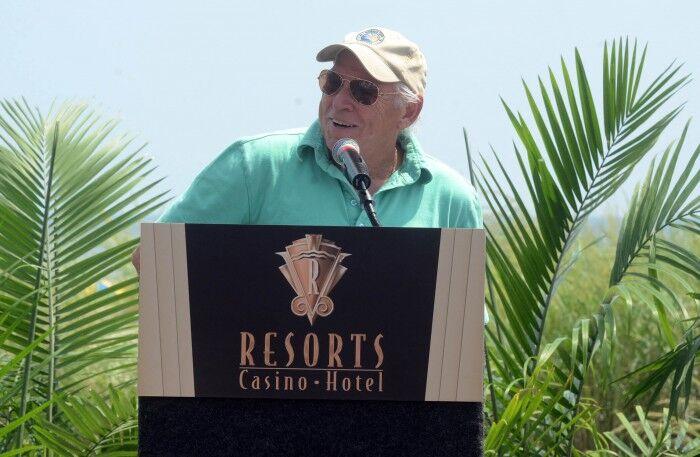 Jimmy Buffett, who died Friday at 76, performed multiple times in Atlantic City, including beach concerts, and brought his popular island-themed business empire to the Boardwalk.
"Something you can wear while hanging out with your friends, or pair with your nice shoes and pants on a Saturday night," he said.
He created a variety of hats, hoodies, T-shirts and stickers emblazoned with "The Culprits Originals," "Respect Atlantic City" or "Respect Atlantic City 609." He also had a spot for The Culprits Originals in the Noyes Arts Garage of Stockton University, along with a giant black-and-white "Respect Atlantic City!" mural.
The brand also has created logos for local businesses, like Vagabond Kitchen + Taphouse, and local bands, like Gutter Drunk. His most recent work includes designing logos and merchandise for the Anchor Rock Club on New York Avenue.
Seeing people all over the country wearing "Respect Atlantic City" merch, spreading the message, or others across the globe in places like Japan wearing his designs, gave Sandoval the motivation to keep creating clothing and art from his Absecon Island apartment.
"There's a fine line between creating local businesses and creating actual culture. I'm about the culture," said Sandoval.
"Everybody's always dissing AC for whatever reason, usually outside people, so this a helps us respect ourselves and other people," said Michael Cagno, executive director of the Arts Garage. "So when you look at the brand and its development, what makes it distinctive is that it's relevant to the geographic area. Atlantic City has this touristy thing going on, but also a nice urban setting with a little bit of grit to it. Those types of things that can work for the brand."
Cagno said Sandoval's "Respect Atlantic City!" mural inside the museum's parking garage kicked off the internal artwork people see when they first come into the garage, and into the city, which also drives the message forward.
"The potential for his brand is huge and is also unique," said Cagno. "You don't see 'Respect Cape May' or 'Respect Ocean City,' so it's a very targeted message."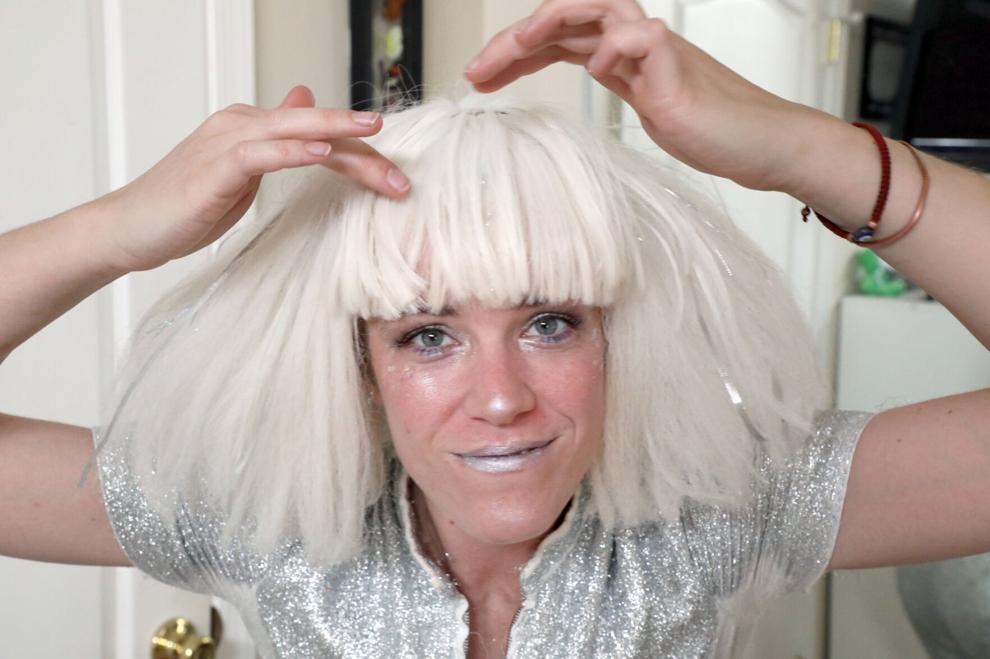 Atlantic City's Tina Notaro quit her job with the state to take up clowning and organizing unique events in her hometown.
Sandoval said with The Culprits Originals relaunch coming soon, he wants to expand his "Respect Atlantic City" message. He would like to open a flagship store for The Culprits Originals inside one of the casinos, or on the Boardwalk.
"I just want it to be that organic Atlantic City brand, like the White House Sub Shop or James Original Saltwater Taffy," Sandoval said. "You can get it online, but you can't buy it physically unless it's in a store in Atlantic City. That way, the next time some of you are traveling, the next time you see someone wearing a 'Respect Atlantic City' shirt, or someone sees you in it, then they'll know."
Sandoval also would like to expand his studio, since he currently works out of his garage, spend more time with family, delve into tattooing and focus on supporting community initiatives that benefit the youth through the "Respect Atlantic City" message.
"I acknowledge now I've learned in this time off that I am very blessed and very lucky to have the support of so many people, and all the people that have supported me up until now," said Sandoval. "This time it will last a very, very long time, longer than the 10 years."
Contact Selena Vazquez:
609-272-7225