Two D.C. teens are charged as adults with first-degree murder for the fatal shooting of 17-year-old Antonio Cunningham in September.
WASHINGTON — A D.C. judge ordered two teenagers held without bond on murder charges Friday, saying the fatal September shooting of a third teen appeared to be the culmination of a day-long robbery spree targeting brand-name sneakers.
The suspects, 16-year-old Marlan Smith Jr. and 17-year-old Anthony Monroe, are being charged as adults. They face multiple felony charges, including first-degree murder while armed and five separate counts of armed robbery each.
Both Smith and Monroe were arrested Thursday in connection with the fatal Sept. 11 shooting of 17-year-old Antonio Cunningham, who was shot and killed just outside the Jersey Mike Sub's where he worked near the Rhode Island Avenue Metro Station. According to an affidavit filed in D.C. Superior Court, the suspects had ordered Cunningham and another teen up against a wall while they took their shoes. Cunningham was wearing Air Jordan 3s, which can retail for more than $200, and the other teen was wearing Balenciagas, some of which sell for more than $1,000.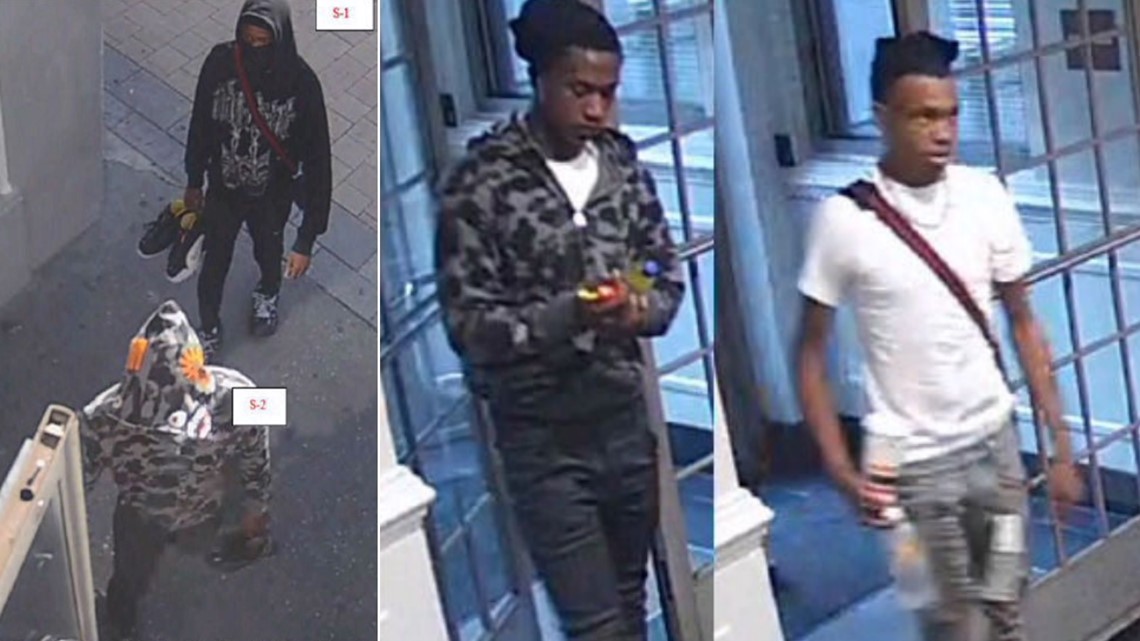 According to the affidavit, one of the suspects opened fire when a bystander approached while carrying a legally owned firearm. Cunningham was fatally struck in the head. The bystander was struck twice in the flank and chest and was taken to the hospital for treatment.
Multiple witnesses reported seeing the suspects get out of a vehicle with Florida plates. It was later identified as a 2018 Kia Sportage that investigators were able to link to at least five other armed robberies the same day as Cunningham was killed.
In one brazen robbery, investigators say Smith approached a victim outside the fire station on the 3400 block of 14th Street NW, pointed his gun at their stomach, and demanded, "Give me everything you got." Smith then allegedly threatened to kill the victim if they didn't tell him the PIN to their cell phone.
Police say other robberies targeted Roosevelt and Coolidge High School students who were also robbed of their shoes and, in one case, a BAPE hoodie they say Monroe can be seen wearing later in the day. A student who was robbed in the 400 block of Aspen Street NW was reportedly pistol-whipped by one of the suspects. Another victim, who was robbed while waiting for a city bus after school approximately 27 minutes before Cunningham was shot, had a gun pointed in their face while one of the suspects yelled, "Give it up!" while pointing at their shoes.
Smith and Monroe's attorneys, Thomas A. Key and Stephen Logerfo, respectively, argued during an arraignment and initial appearance Friday that investigators had inadequately identified their clients. However, D.C. Magistrate Judge Eric Glover said the detailed, 67-page affidavit prosecutors filed, which included numerous surveillance images of the pair as well as an identification by an officer who regularly interacts with them, convinced him there was probable cause. He also denied requests from Key and Logerfo to release the teens on home detention.
"The court does not believe it could reasonable craft any conditions that would ensure the safety of the community," Glover said.
Both Monroe and Smith were ordered held without bond. They were set to return for a preliminary hearing on December 4.