Florence Pugh loves a bold look and a fun caption, and I love her for it. The actress has never been afraid to rock a bright color, sheer fabric or punk hairdo, and she always seems down to try out new and unique outfits. Her latest look is a prime example of that. In her new fashion spread, Pugh rocked a bright yellow look with some incredible neon blue high heels, and her caption for it is even better. 
We've seen Pugh rock incredible satin looks and one-of-a-kind sheer gowns, while also constantly changing her overall appearance through different haircuts, like her shaved punk blonde do. Her adoration for clothes and elaborate fashion is clear, and over the last year, we've seen her truly become a fashion icon. Now, she's been named one by Elle UK, and she took to Instagram to post about it in some absolutely epic blue high heels: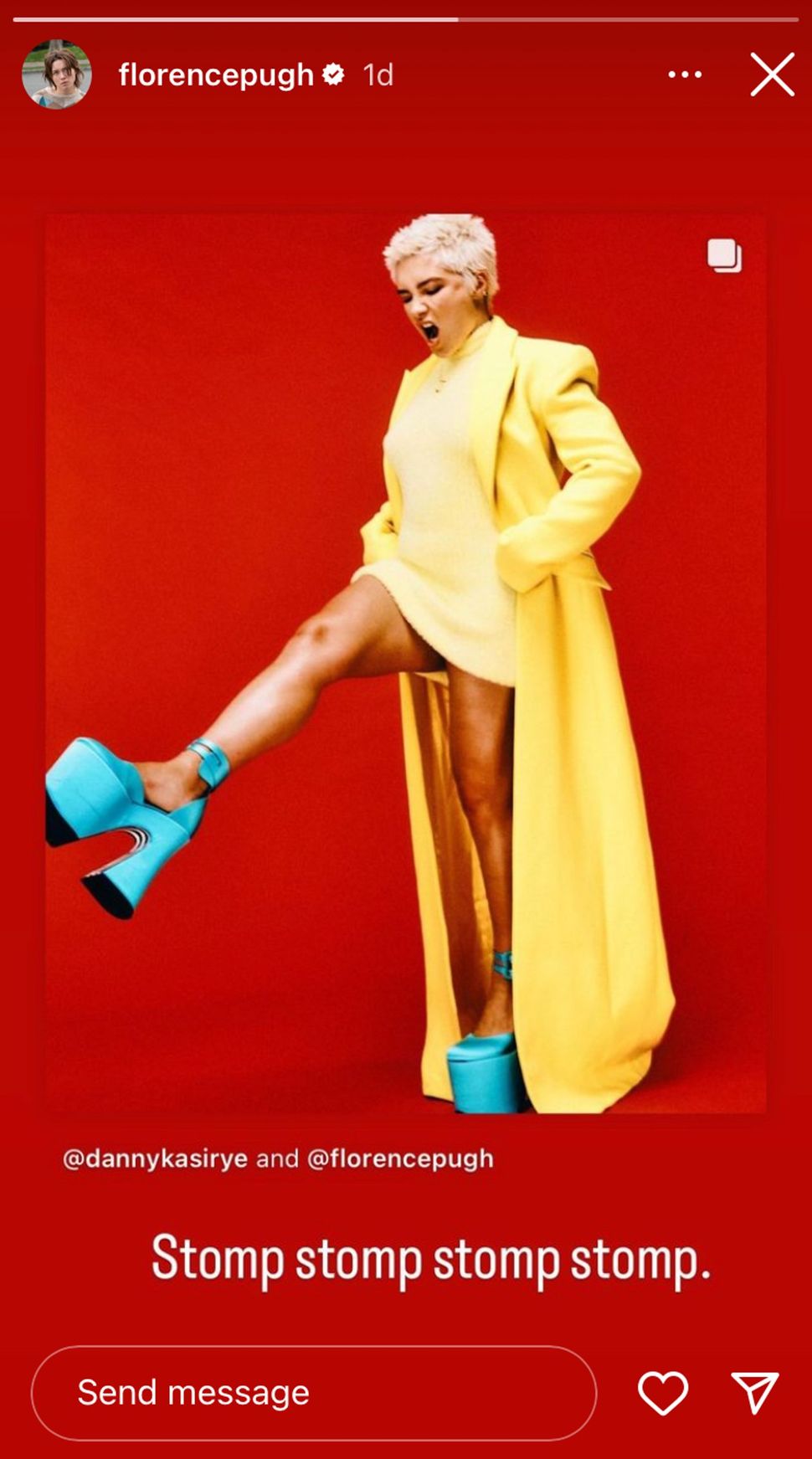 Obviously, the photo is incredible, but the caption is just as fun as Pugh wrote the following about her cheeky photo:
The energy of this photo and the caption reminds me a lot of the time Pugh posted about her hair being like Guy Fieri's platinum blonde spiky hair, and I'm so here for it. She clearly loves to have fun with her fashion, and it's so evident in the photo shoots she does and the words she writes to go with them.
This photoshoot was part of a spread the actress did for Elle UK. Pugh was named The British Icon for her fashion choices over the last year, and these photos show you exactly why. She's fearless when it comes to her style, and her love of bold color and fun design makes her a standout among celebrity fashionistas. While speaking with the magazine, the Black Widow star said this about her style:
I always have so much fun looking at all the details in Florence Pugh's looks. As the Little Women star stated, since she is enjoying the clothes, other people are too. Her joy about fashion is infectious, and her choices are confident and colorful, like those insane blue heels. Along with the yellow and blue look, the actress also posted this fun oversized pink number, which also shows off her appreciation for unique clothes:
I don't think I'll ever get over this photoshoot, the bright colors and especially those bright blue platform heels. Pugh is thriving in them, and her confidence and playfulness are inspiring. 
As 2023 rolls along, I'm sure we'll get more fun looks like these from Pugh as she continues to attend fashion shows and events in epic outfits like the ones pictured above, and post fun captions about them after. Along with checking out her current and likely upcoming epic looks, also take a peek at our 2023 movie schedule so you know when her next project is coming out. If you are looking to see Florence Pugh on the big screen, you can catch her and the cast of Oppenheimer in Christopher Nolan's latest film in theaters.