The fall before the snow, don't we love it all! Embrace the fall with these newest nail trends to take on your next appointment (or go the DIY route for a fun sessions with your sisters!)
Vampire Bloodthirst
Thanks to Twilight, we have all been obsessed with vampires at some point in life. Rekindle the love for the bloodthirsty vengeance with a touch of rubies on your tips this season. The glistening maroon coat looks best when the nails are shaped in a stiletto and (not a coffin. We know, it is unfortunate). A matte variant of the nail teeth in subtle pinkish red also looks great if you want to choose a color that is versatile, and will last you with multiple outfits for over three months.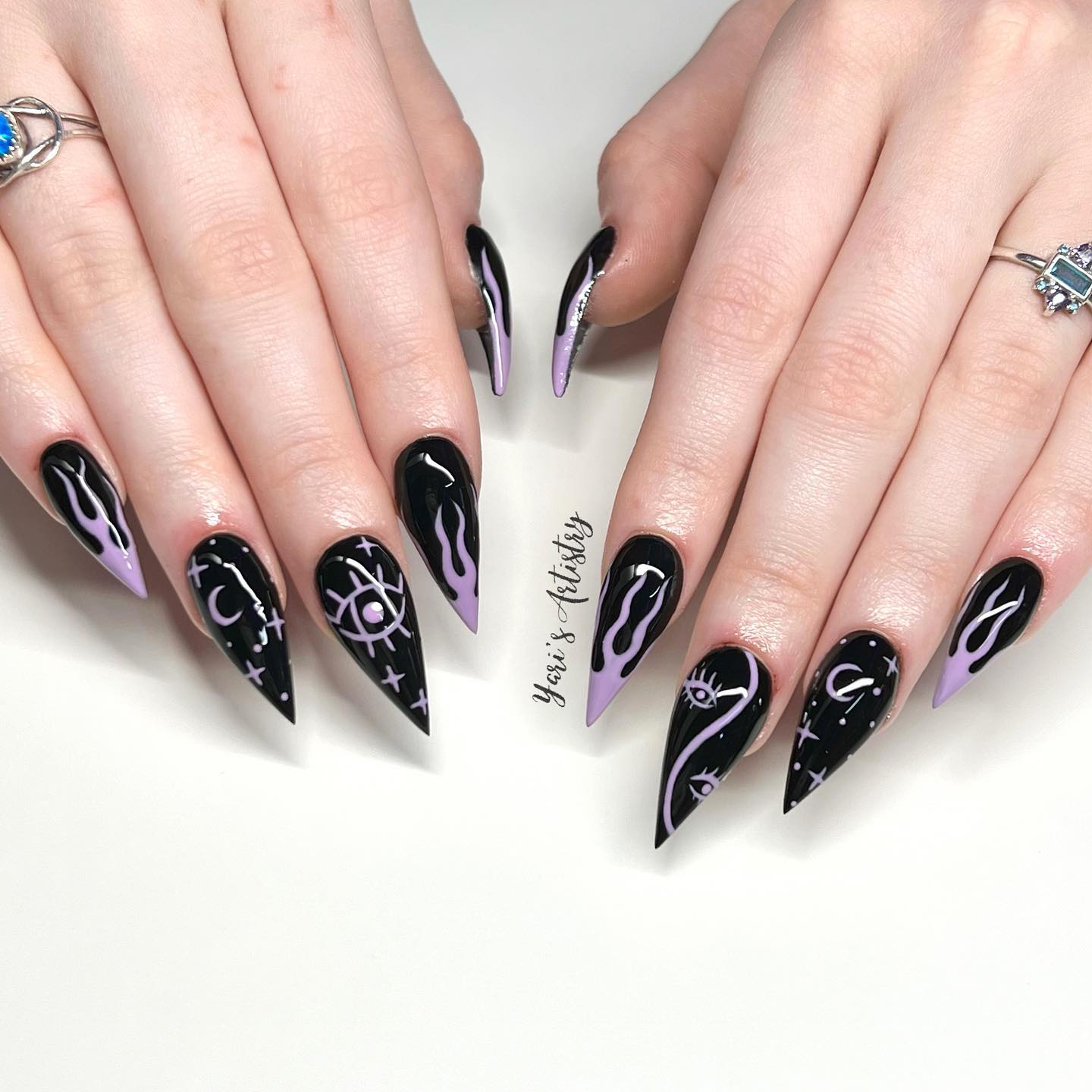 However, if you are not a fan of mimicking the vampire teeth on your fingertips, another way to embody the moonlight red on your nails is by adding spooky motifs for all the upcoming halloween parties!
Pumpkin Spice
Tap into your inner child with the details inspired from our nostalgic and favorite pumpkin spiced lattes. An experimental yet cute approach to nail manicures, manifest the essence of fall and halloween together with these trendy nail designs, such as the all matte orange set.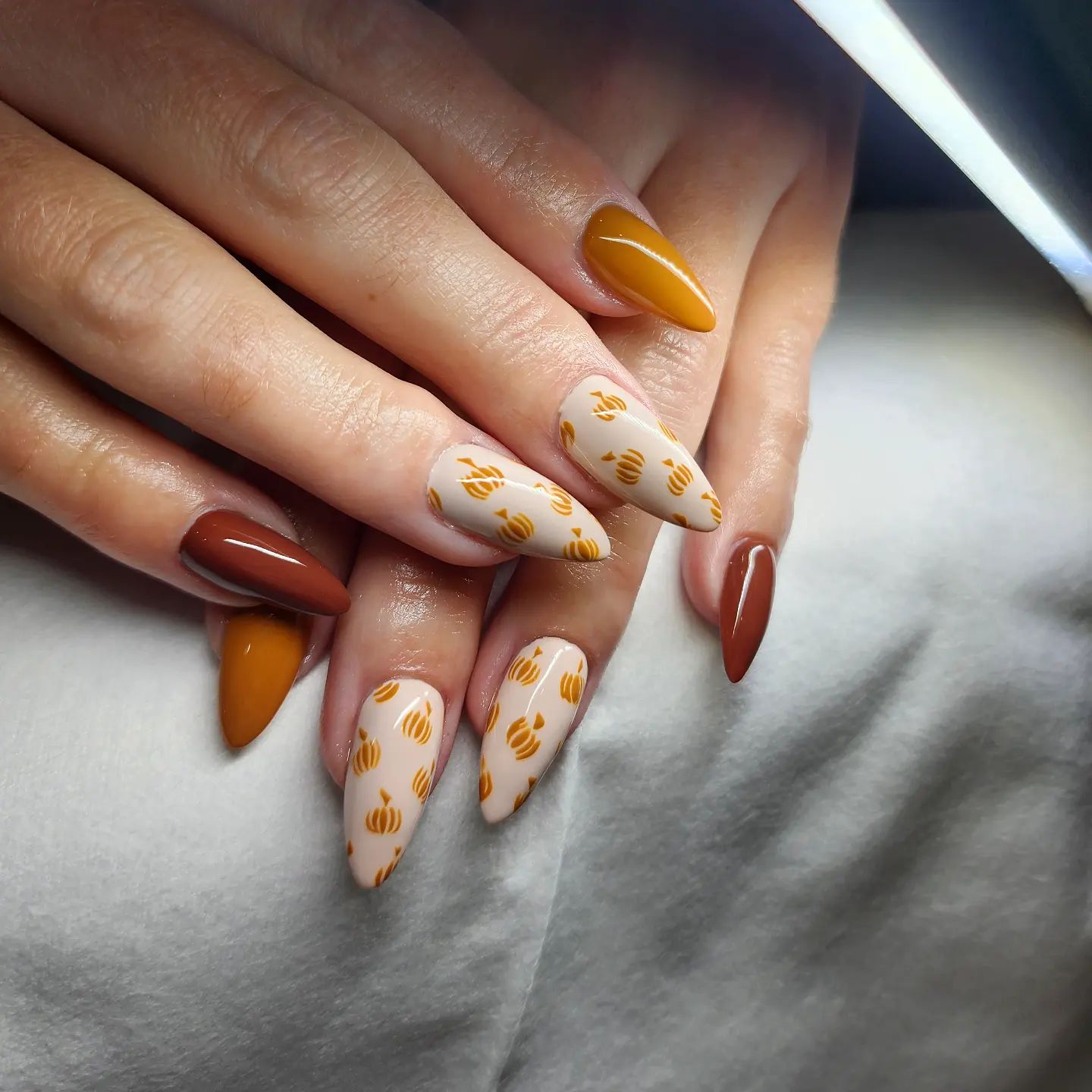 Another touch to add the pumpkin motif to your nails is by pairing it with eggshell white and mustard accents. Simple, effective and subtle on the eyes to keep for longer than halloween. 
Glazed Tips
Calling all the clean girls, while we are all craving a glazed donut every now and then, bring the shine to your tips this fall for a minimal yet trendy look. An in-season pick, glazed tips often look good when the base color is as close to your natural color as possible. This kind of a manicure is for the ones who like to style themselves in sophistication, but also have a work meeting to attend most of the days and want to look professional.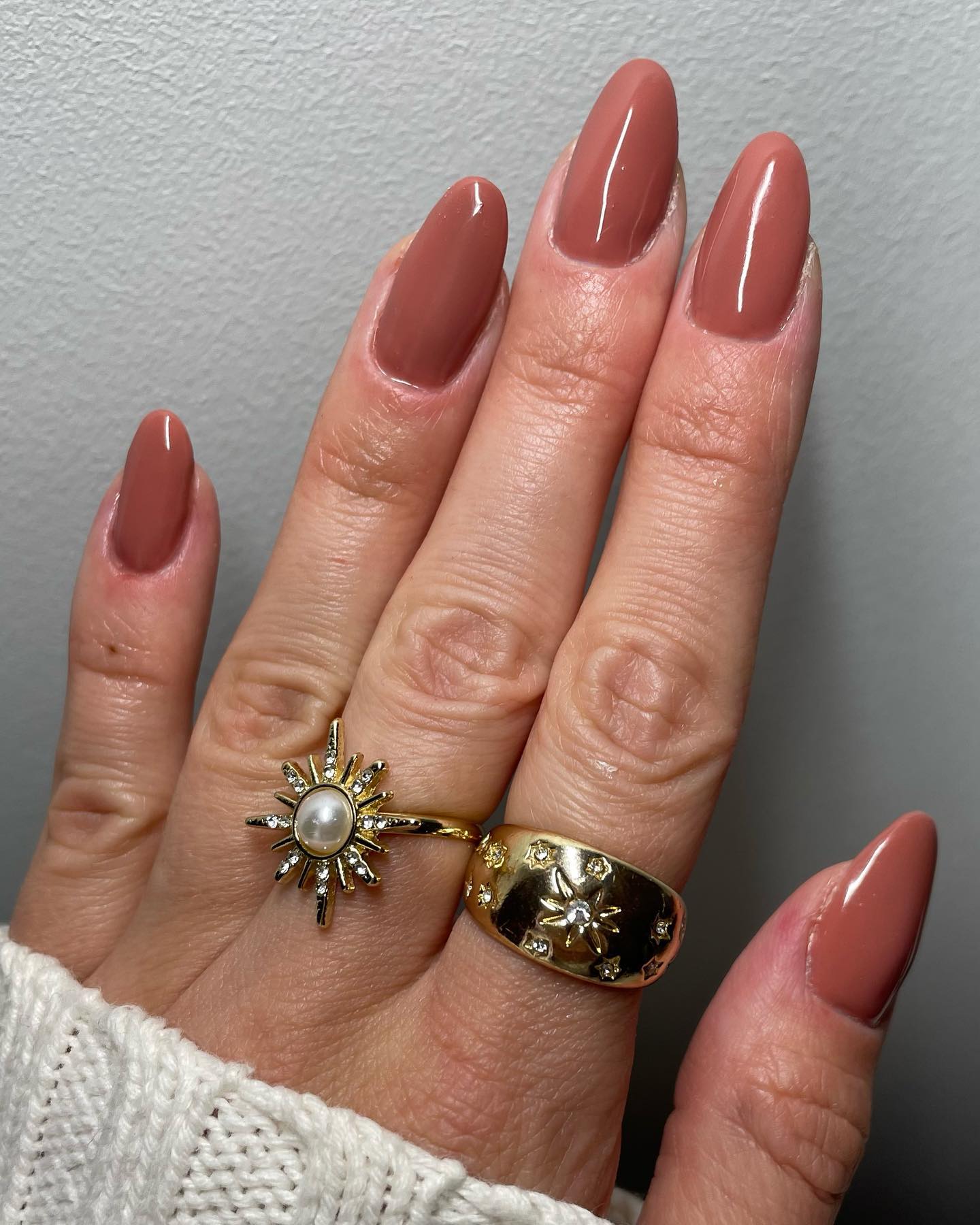 Such a manicure requires a simple base coat with the color of your choice, and a top sealing coat to keep it slaying for at least two business weeks. After all, a full 9 to 5 does not mean that you can't cherish the spirit of fall!
Leaves Affair
If you love a feminine touch on the prints of your nails, you will fall in love with a design that speaks of the fall (quite literally). Perfect to make you look effortless in a sweater and boots outfit, find a leaf that speaks to you, and create a memorable print out of it! We suggest keeping all the tips in a single coat of color, except for the ring finger which will have the leaf print of your choice.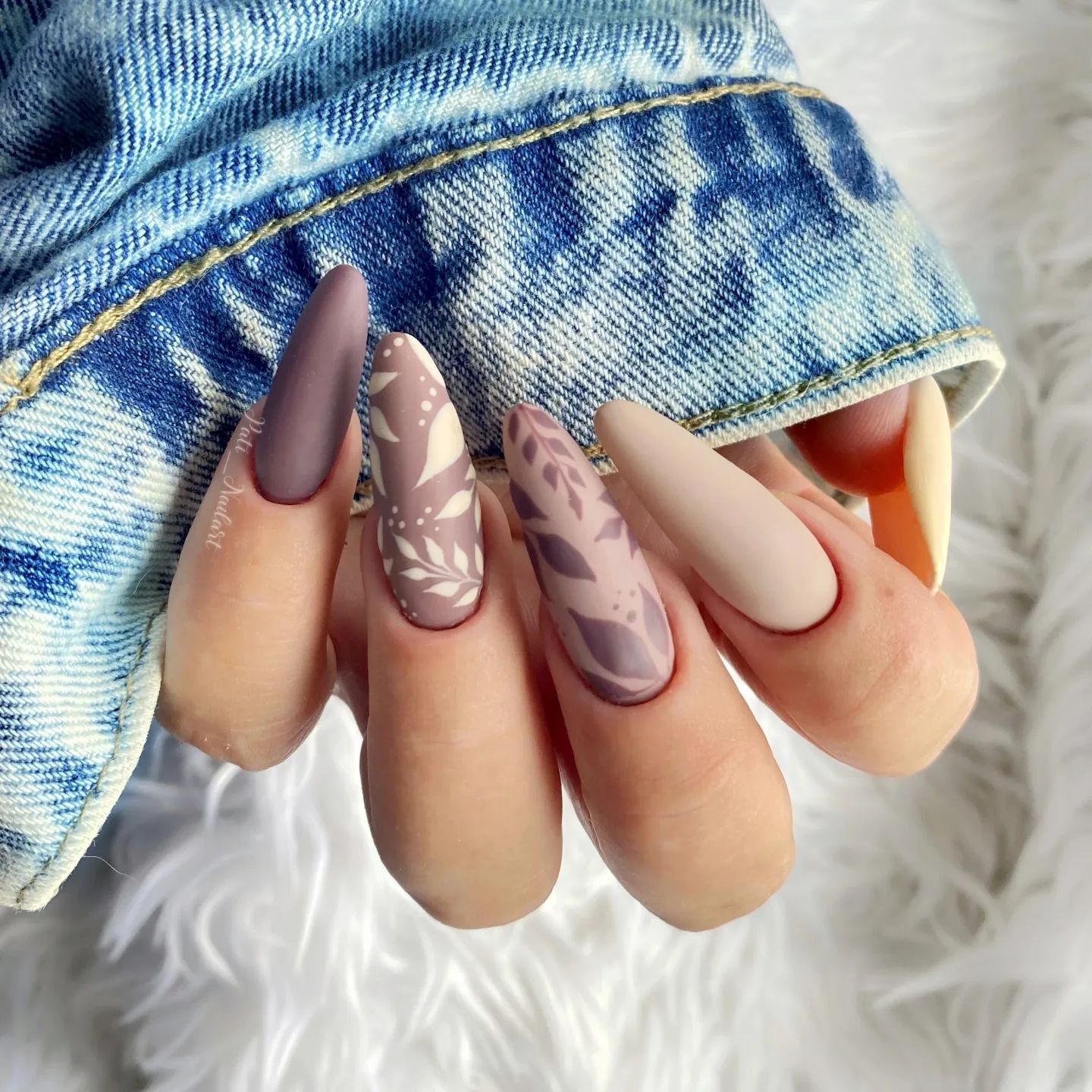 Fall French Tips
Oh! Our first nail love, the effortless French tip. Over the years, the classic pink with white manicure has got its fair share of manicures, and it would be an understatement to mention that frenchies are going experimental this fall. An added swoosh with the regular french tip, all in matching colors are seen on many Instagram feeds, and our detective eyes observed the pattern of 'twisting' the French tip to look fresh and new.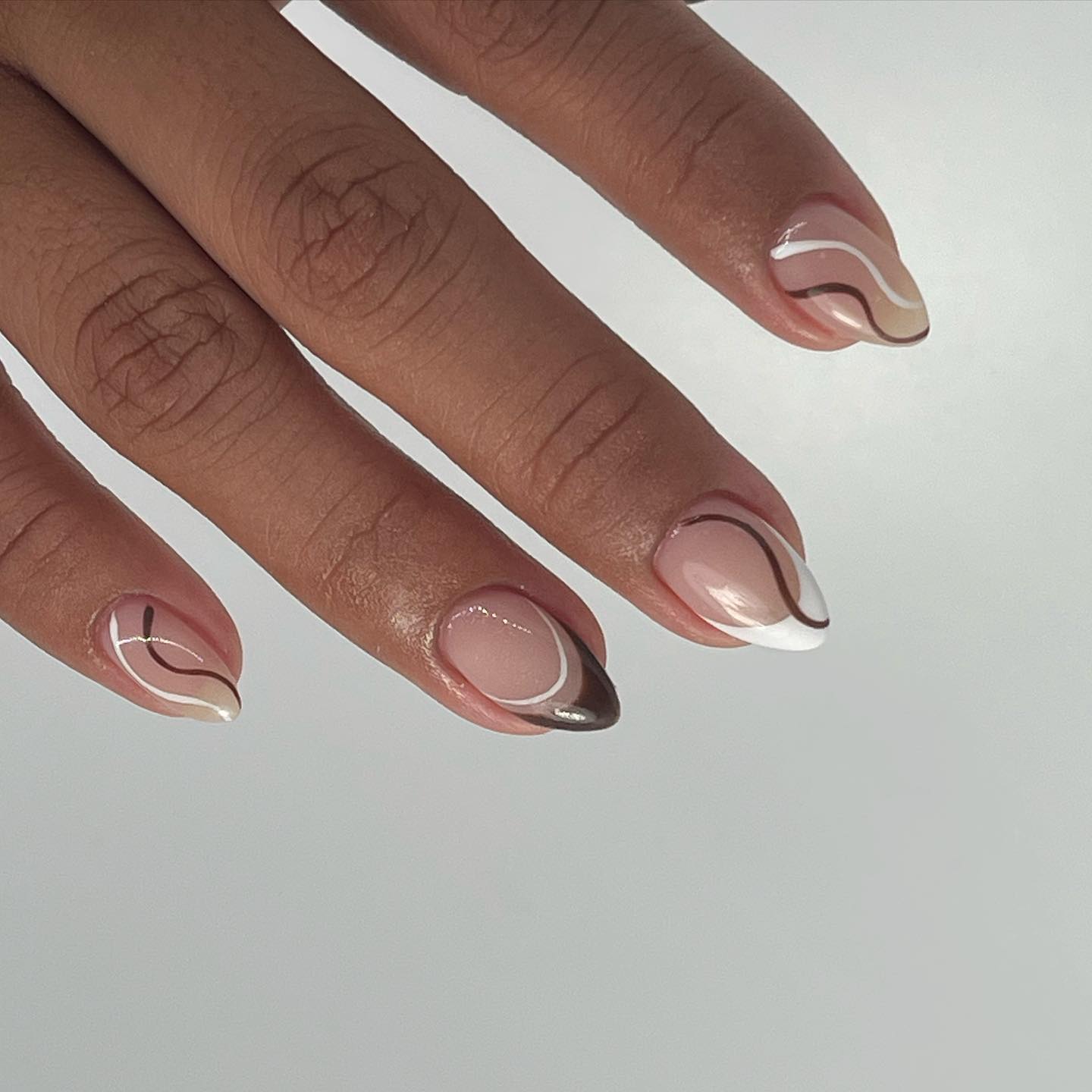 Another major addition to the French tip was layering. Hardly looking like the OG French tips, these tips are painted in separate layers with the same color to give the chromatic yet multi-dimensional effect. Try it out if you want to keep it simple yet edgy this fall. 
Nude Hues
Ah, the classic and timeless. Nudes have never been out of fashion, and will continue to reign in almost any spectrum of fashion (be it clothing, beauty, skincare or even interiors) as long as it is the right shade that suits us. Many find it difficult to figure out the perfect shade for themselves, considering how brands have categorized them into broader subs such as pink, browns or red nudes.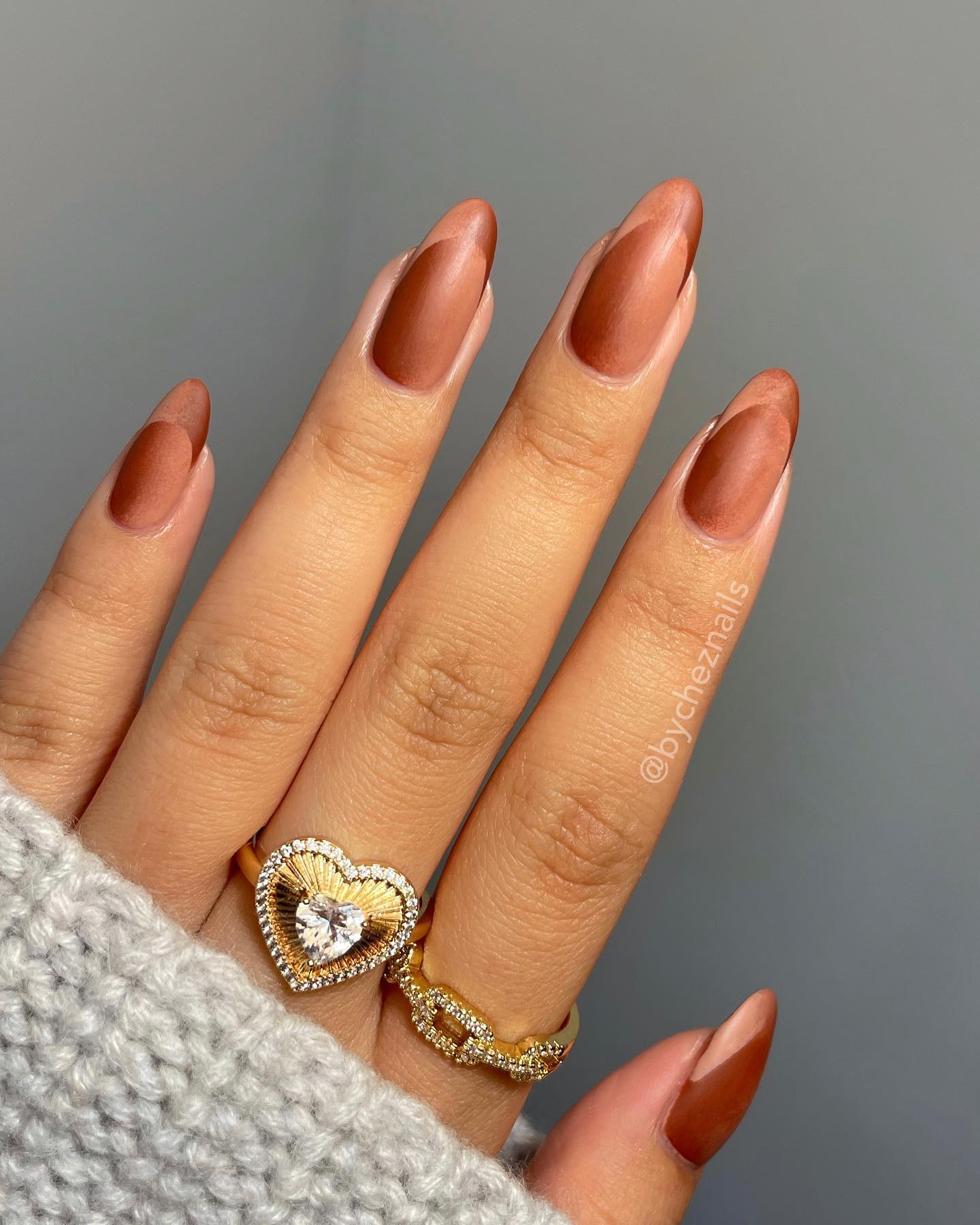 For nails, a good measure would be to see your natural nail color. Is it more of a pale cream or a reddish pink? Chances are, the swatch closest to your natural nail color will be the perfect nude nail color for you, and if you're still confused, go with the color of your natural skin tone, but keep it a shade darker to add that touch of difference between your cuticles and your tips.
A Dusky Color Palette
If you are perplexed with the various options, we understand. To figure out which color of nail paint will suit your skin, it is best to try variations of the same color on your fingernail, and who knows, you might just end up liking it that way!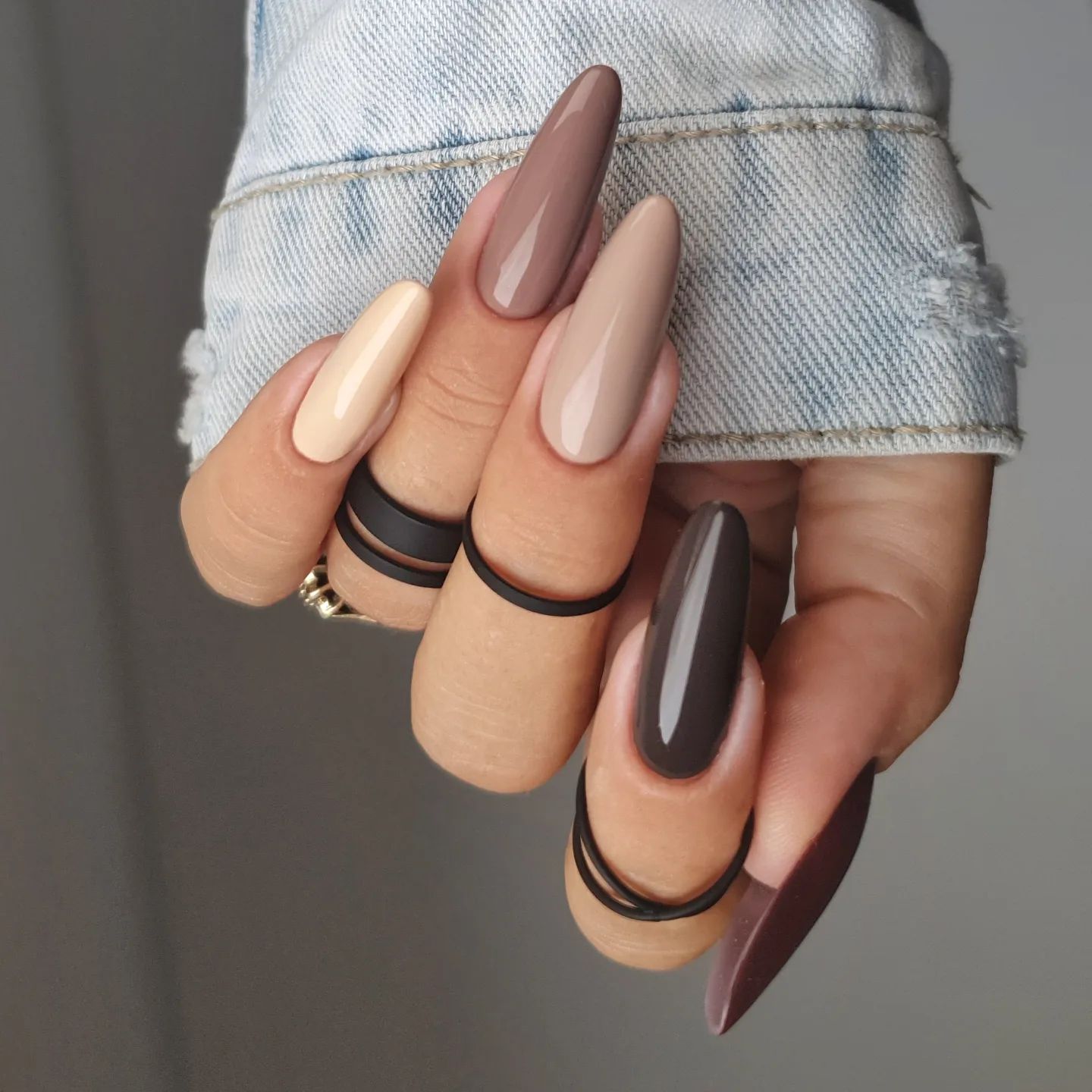 Plaid Presence
The best print that works with fall is the smart, plaid presence! We see plaids all around us during fall, on skirts, sweaters and even scarves, and what better way to match your skirt to your outfit than with your nails, right?!
This nail choice depends more on the plaids you already have in your closet. However, you have the liberty to choose your colors. Thus, a brown and beige plaid might just work with a pale blue nail art, if you pair them both with a sweater that is blue. 
Neon Flares
Within the fashion realm, we have observed a surge of all things attention grabbing, and the same can be said for our nails. Bright pinks, neons and greens along with streaks of yellow and white are all the rage. However, the trick lies in keeping it classy by utilizing these sharp colors moderately, such as in a small part of a pattern, or an edgy french tip.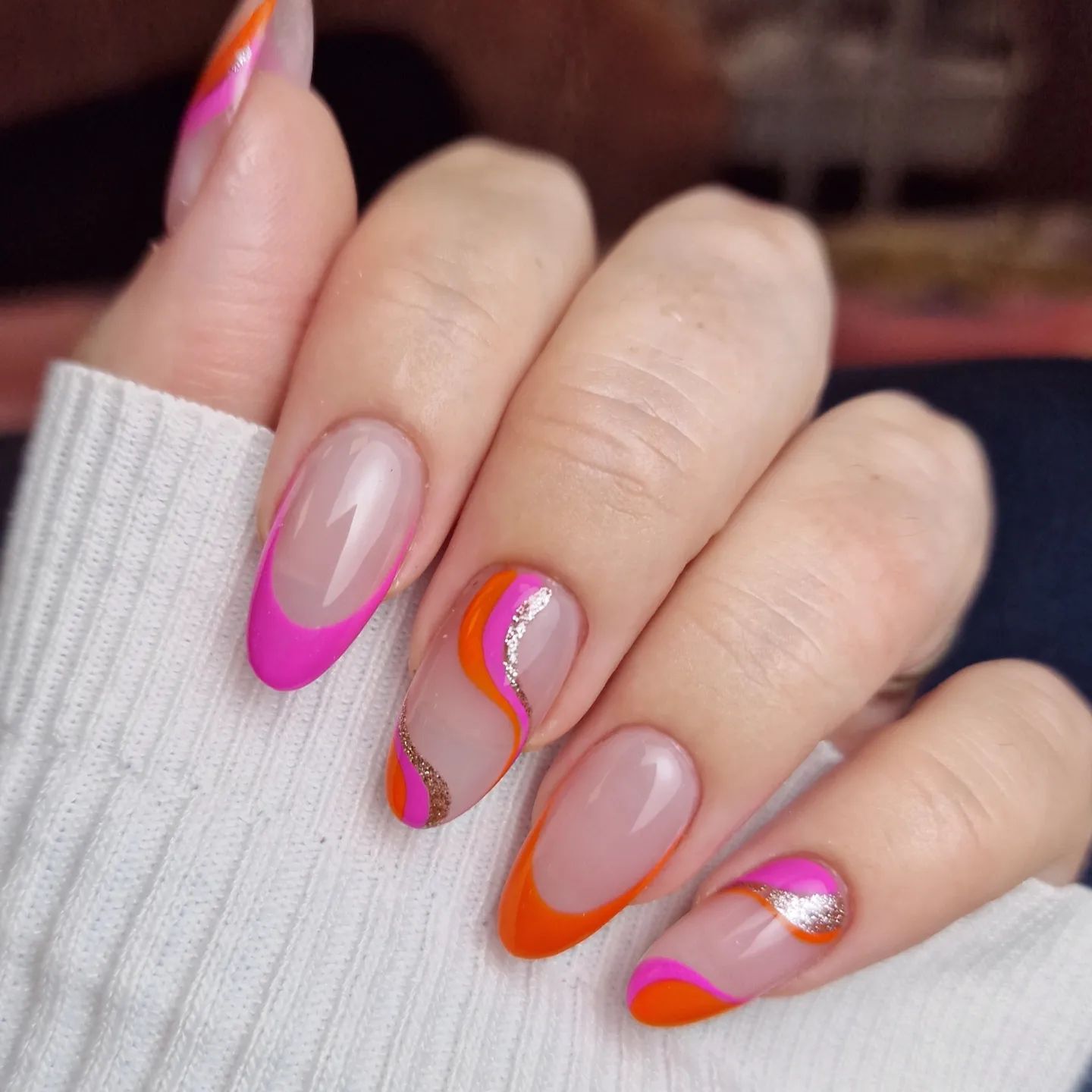 In our take, go with analogues color schemes, such as yellows, oranges and reds or light blue, navy and turquoise. Often, the colors that are adjacent to each other in the color wheel work well in neon shades and complement the complete design.
Frequently Asked Questions
What are the nail trends for 2023 – 2024?
All the fingers are pointing towards one of two ways (no pun intended): The nail art is either going to be extravagant and a true statement, or a pleasant, sophisticated glamor. Think all prints in a multicolored affair for the former while french tips created out a shimmery silver for the latter.
How often does a manicure last?
The quality and longevity of a manicure heavily depends on the type of manicure you are getting on your natural nails. If you use an extension, it is most likely that the beautician will use gel nails to give it polish (gel nails require UV light to dry, and this stay sturdy and intact for longer periods of time). 
How do I keep my matte nails as good as new?
Matte nails are harder to maintain than a shiny polish one, that is a given. However, a good way to keep your mattes truly matte for longer periods of time is to not let it expose to any kinds of oils (which, in humorous ways, can sneak through that chicken wing you have for dinner). Also keep in mind to check your haircare and skincare product ingredients, as they may contain some amount of oil, which might not damage your nails, but has the potential to discolour it a bit.