Former President Donald Trump took to Truth Social on Monday to make the argument that his Republican primary rival Ron DeSantis wears heels.
Amid a slew of posts about the conflict in Israel, the Chinese Communist Party, and his legal troubles on Monday, Trump posted three screenshots from DeSantis' September appearance on Real Time with Bill Maher, with a special focus on DeSantis' boots.
"Tell me he's not wearing hidden heels," the image read, alongside zoomed in snaps of DeSantis' cowboy boots.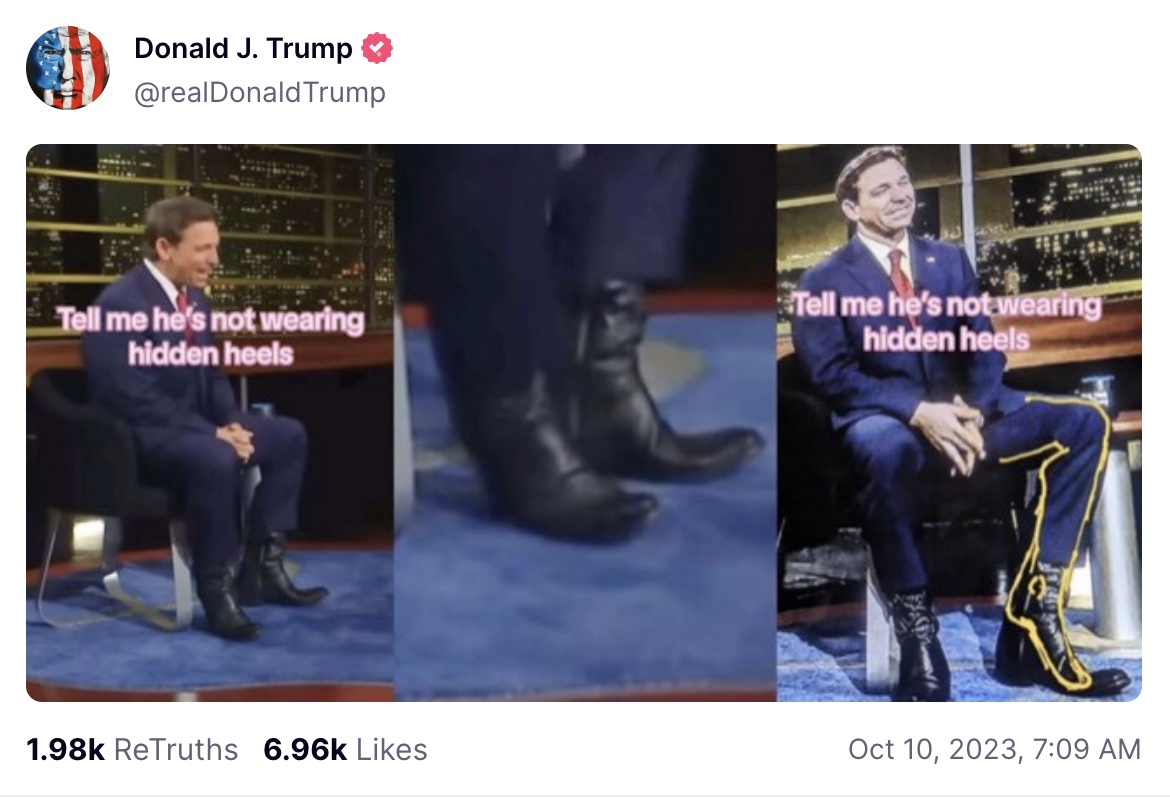 One of the photos even featured a yellow line drawn over DeSantis' leg to theorize where his foot could possibly be in connection to the heel of the boot.
The photos Trump shared on Truth Social, Monday appeared to originate from a TikTok video which attempted to make the case that DeSantis had been wearing high-heeled boots during his appearance on Bill Maher's show.
During the show, Maher made a comment about DeSantis' decision to wear cowboy boots with a suit and remarked, "Let's face it Ron, if this campaign was going well, you wouldn't be on this show."
Supporters of Trump and DeSantis have previously argued over whether the Florida governor wears high-heeled boots to enhance his height.
In March, Slate published an article under the headline, "Ron DeSantis Embraces the High Heel," which alleged that the presidential candidate "prefers a higher, slanted heel—the kind that's better suited to riding horses."
An unnamed former DeSantis staffer told Vanity Fair last year that DeSantis' wife Casey DeSantis was responsible for the boots.
"She bought him these dumbass cowboy boots because she thought it was part of the image," the former staffer claimed.
Have a tip we should know? [email protected]