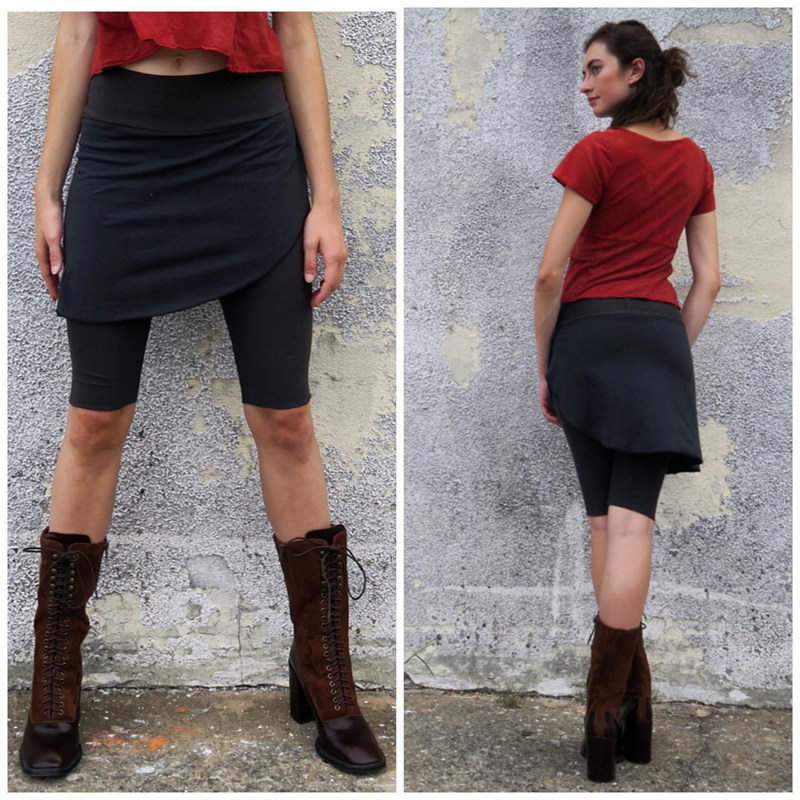 If you haven't seen this new fashion yet, skirted-leggings are leggings with a skirt attached to make it an all-in-one garment.
The whole garment is stretchy, so it's an easy-wear item that you can wash and wear without ironing in most cases.
And there are various styles, leg-lengths, skirt-lengths and patterned fabrics to suit all the different style tastes.
The advantages of buying this two-in-one garment is that with a skirt attached you can wear a wider range of tops with your leggings.
So, for example, you can wear a trendy, cropped top or jacket with skirted-leggings, because your hips and thighs are covered.
You can also wear a shorter skirt than you normally would, as you will be wearing leggings underneath.
And this lets you look and feel younger, whilst being modestly dressed and comfortable.
Another important advantage of skirted leggings is the fact that they keep you warmer than just a skirt or a pair of pants.
You can, of course, make your own skirt and leggings outfits from separates you already have in your closet.
But you can also buy lovely matched skirted leggings in good quality fabric that's perfectly matched in color, texture and pattern!
And for those of you who are getting tired of wearing blue jeans day after day, this is a chance to wear a skirt again, without exposing your bare legs – or wearing expensive tights that are so fragile!
So let's have a look at this exciting new fashion style and see what you can do to freshen up your style!
1. Trendy Soft-Green Skirted Leggings & Orange Check Coat
If you're going for a woodland walk on a chilly day, you'll find that a pair of skirted leggings gives you the warmth you need in a super-comfortable and attractive style.
This soft-green skirted legging is long enough to cover your knees and the pencil-shape skirt will give you an excellent silhouette.
Match with a bright checked coat, a jaunty cap and gorgeous wedge boots, for a totally new fashion look, that's far away from the bulky, jeans-and-chunky-sweater look!
2. Casual French-Blue Skirted Leggings
You may not normally like to wear just a T-shirt with your leggings, as it can leave too much hip and thigh on show.
But over a skirted legging, the whole proportion of the outfit changes and you get a slimming outline, with a longer body line.
A skirt length that ends just below the knee is an attractive length for an outfit you can wear for casual occasions of all types!
3. Mauve Mini-Skirted Leggings with Dusty Pink Top
For a high-fashion spin on this new trend, wear a mauve mini-skirt and leggings outfit, knowing that your modesty is protected, but your shapely legs are on show.
Create a memorable look by teaming with a long, dusty pink top with a trendy tie-belt accentuating your waist.
Pink always looks great with mauve, and in this outfit the muted purple is beautifully balanced with the pink top and tan head-band!
4. Floral Skirted Leggings with Aqua Top
Tights are such a bother to wear, yet not everyone has smooth, bare legs they wish to expose completely uncovered.
This attractive summer look gives you the fashion flair of capri pants, without exposing your hips, and the cute vibe of a delicate floral skirt.
Pick out a color from the skirt for your top, like this trendy aqua and tie a knot to make it asymmetrical.
This little gap will break-up the width across your front in a flattering way.
Then just accessorize with a rounded natural-fibre bag and dainty flat sandals!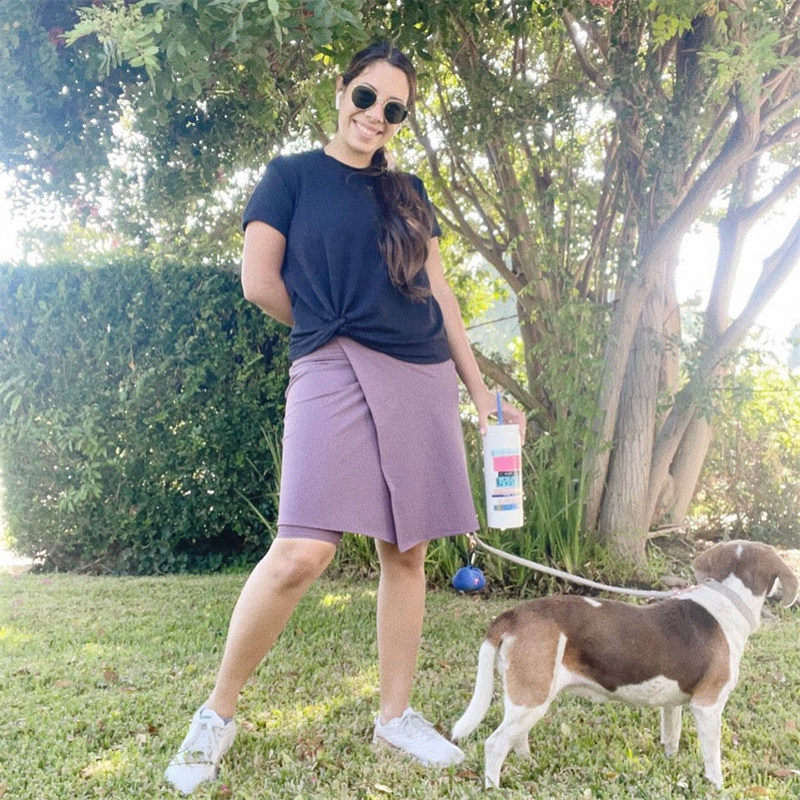 What do you usually wear to walk the dog? Is it a pair of blue jeans?
If you're getting a little bored with wearing blue day in, day out, change your style 'record' for a skirt and above-the-knee leggings.
This is a particularly well-balanced outfit between the top and bottom sections, which is far more attractive than a pair of tight jeans emphasizing any unwanted lumps and bumps.
And the wrapover skirt in a soft lavender color harmonizes perfectly with the dark-blue top, for a feminine, but practical summer look!
6. Black Skirted Leggings with Lightweight Striped Jacket
There really is nothing like a pencil skirt or a pair of leggings in black to give you a slimmer appearance.
And in this case, you have both working for you!
For daytime casual wear just throw on a graphic t-shirt and a long, black and white striped lightweight jacket and you're ready for the day ahead in a fashionable look!
7. Black Wrapover Skirted Leggings & Tan Boots
You can easily dress up your black skirt/leggings with country-casual accessories like a cream sweater, and a navy and red, long scarf.
And to get a really polished look to your beautifully-curved, wrapover skirt, invest in a lovely pair of tan knee-high boots and a jaunty, matching cap!
This is a classy and trendy look that's very appealing.
8. Plus-Size Animal-Print Skirted Leggings with Brown Top
If you wear plus-sizes, you'll love how this outfit skims right over any bumps and just shows off your best features.
The top's fabric drapes over the bust in a flattering way before falling loosely around the hips.
The knotted front breaks-up the width of the body in a slimming way.
And the gorgeous cream, brown and tan pattern attracts the eye to the fashionable skirt with below-the-knee leggings to match.
With the forearms and calves showing, you get a nicely proportioned look to this very attractive outfit!
9. Sexy Pencil Skirted-Leggings
Long pencil skirts are a very flattering look and have been a staple for office wear for many years.
Team your skeggings with a fashionable ribbed sweater that finishes half-way down the hips, to get a fabulous silhouette.
And with today's fashion for neutral colors, you can create different color combos quite easily.
So gray looks great with its complementary color of rich, rusty orange, and monochrome tonal outfits in two different shades are also a trendy look!
10. Sporty Micro-Mini Skirted Leggings
If you enjoy tennis, badminton or racquetball – or if you just love wearing short, flirty skirts – these skirted leggings will set the trend in your sports' club.
Black leggings under a printed, flared skirt – that's probably shorter than you'd wear without leggings – can be a jaunty Capri length or ankle length.
Wear these with sporty T-shirts and white sneakers and play without worrying about 'wardrobe malfunctions'!
11. Urban Chic Black & White Animal-Print Skirted Leggings
This is a fabulously trendy, urban look that teams a chunky, high-necked cable-knit sweater with a flared micro-skirt and leggings garment.
It's an exciting combination, with a navy reefer jacket and elegant high-heeled ankle boots in black with brown and deep orange details!
A black and white zebra-print skirt can be matched with a whole range of ribbed sweaters, blouses and tops for lots of different occasions.
And this is just a hint of how chic you can be in your new skirted leggings outfits!
12. Pretty Light-Blue Plus-Size Skirted Leggings
Look more feminine in a pretty blue skirt and matching leggings outfit, that's a great alternative to your jeans.
These skirted leggings finish just below the knee to show your lower calves and ankles and look great with powder-puff -beige sneakers!
The elasticated waist with tie-cord gives this ensemble a sporty look and you can wear with a T-shirt tucked in to emphasize your waist.
Best of all you'll feel comfortable all day in this well-fitting, stretchy outfit!
13. Japanese Style Short Flared Skirted Leggings
And this is how they're wearing skirted leggings on the fashion streets of trendy Japan!
A pair of plain black skeggings will match with just about every top you own, so if your budget is restricted, this item will give the fantastic value for money.
This model is wearing a trendy gray sweater with funky red star pattern that combines two of this year's popular fashion colors.
Skeggings are just the thing for cash-strapped students to wear!
14. Smart Curved Hem Skirted Leggings
This curved hem style gives yet another attractive look from the skeggings range!
It's chic and figure flattering making your body line appear longer and slimmer, because the outer corners of the hem have been trimmed off.
Dressed up with a high-waisted top and a scarf/cowl neckline echoing the curved hem beneath, creates a smart outfit for everyday casual and dates with friends!
15. Edgy Asymmetric Hem Skirted Short Leggings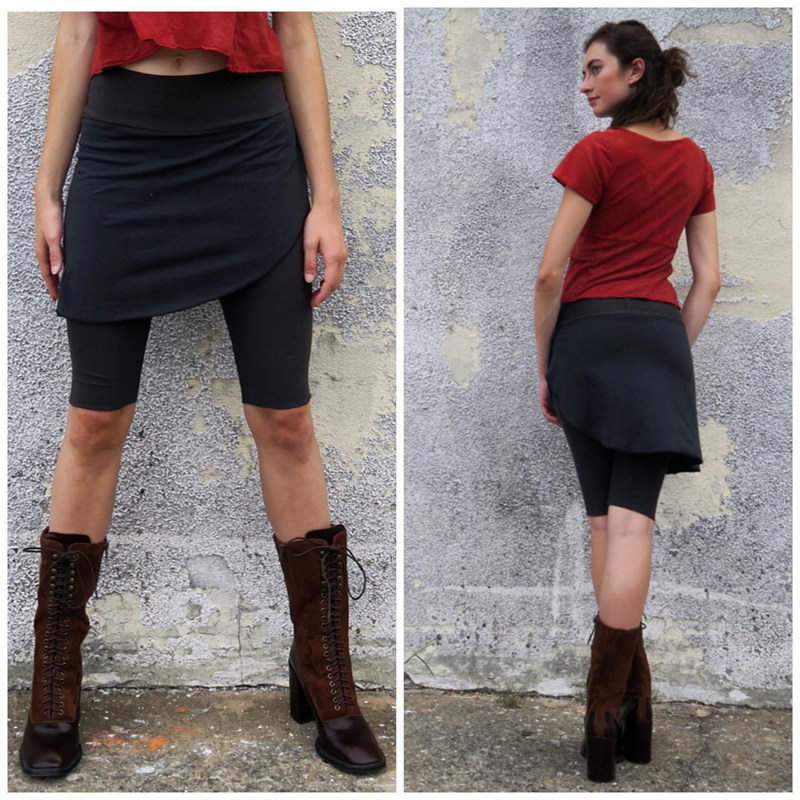 This is a lovely skirt style with an asymmetric cut creating figure-flattering draped fabric across the front.
And it has been used to create some lovely, short leather skirts this year
So this is its latest version as part of a pair of skirted leggings, with above-the-knee legs and gorgeous brown, suede and leather lace-up boots.
This is a truly up-to-the-minute outfit with the latest mid-calf boots and a burnt-orange cropped top adding even more edge to fabulous skirted leggings!
---
Skirted leggings are a brilliant design idea that will be welcomed by all fashion fans who want something different, that also comes with practical benefits.
They have the comfort of our beloved leggings, but cover your hips and thighs to make the look classier and more forgiving.
And skirted leggings are always going to be warmer than a single pair of jeans or a skirt, without making you feel all bundled-up.
You can also solve your dilemma about whether to wear tights or show your pale, less-than-perfect legs with a skirt, which is an issue for many women.
Overall, the wide range of styles has something great to offer all fashion tastes, sizes and age groups – and my own favorite reason is that you can wear really, really short skirts and still be suitably modest!
So I predict that skirted legging are going to be an amazing fashion success this year and beyond!