How many of you wear glasses?! Can we talk about plus size eyewear campaigns and options? Taking issue with the "glaring absence of plus size representation in eyewear campaigns and advertising," plus size optician, Autianna Wilson has decided to do something about it. This plus eyewear designer and business owner tapped into the power of AI to imagine a plus size eyewear campaign!
"As an optician who identifies as black, queer, and plus-size, and has a strong following in the optical industry, I have always felt compelled to express my opinions on various topics related to inclusivity and diversity."

Autianna Wilson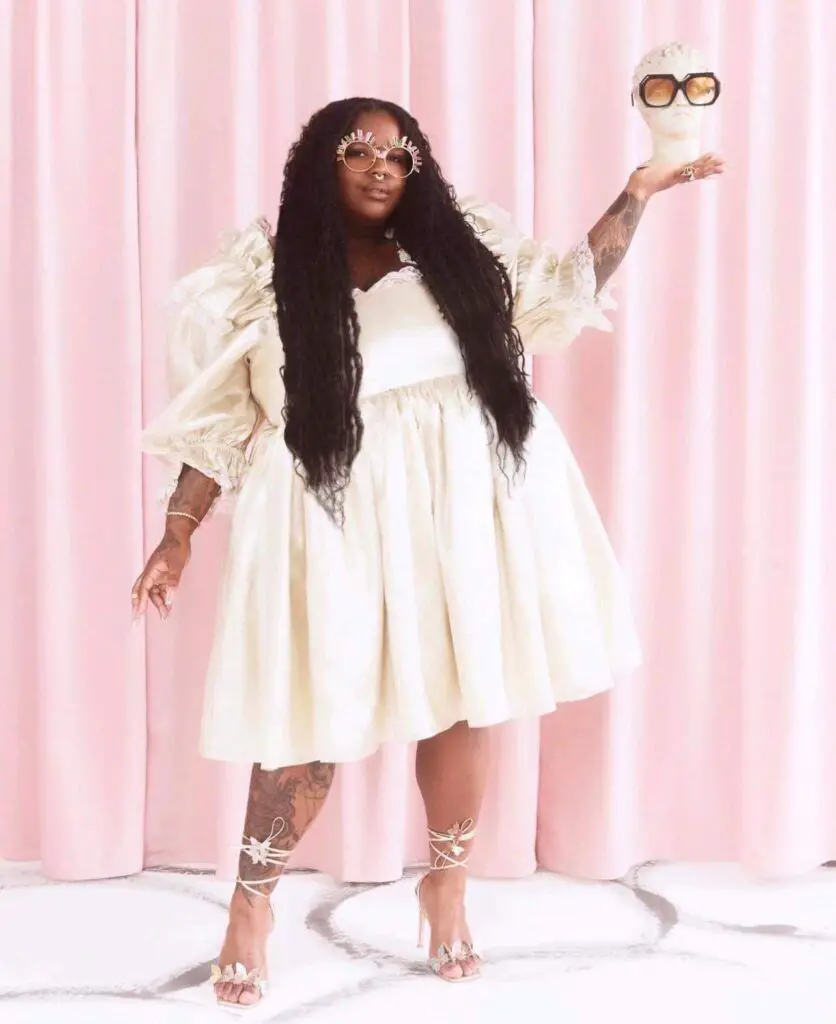 Before we dive into the campaign, let us first introduce you to Autianna! Autianna Wilson, @opticalgoddess_, runs Eyewear Love Affair, a brand that specializes in both virtual and in-person eyewear styling.
Autianna is also a licensed optician and advocate for independent eyewear and is widely known as the "Optical Goddess." She lends her expert guidance in selecting frames, shares her extensive knowledge of lenses, and boldly gives candid opinions on eyewear and fashion.   
Interestingly, Autianna has been working on launching her own eyewear line and is determined to feature predominantly plus size people in her campaigns. She recognized the lack of representation in eyewear marketing and decided to have a little fun with what she would like to see.
"… as I refine my ideas for the line, I had a thought: what if I created an AI EYEWEAR CAMPAIGN showcasing unique eyewear designs and using AI-generated representations of stunning plus size individuals? My intention is to genuinely inspire eyewear designers and brands to embrace more diversity in their marketing efforts."

Autianna Wilson
We have only started to see the various ways that AI can be used, but we are starting to see the power of AI harnessed in this creative way, especially in the plus size space!
The Current Challenge with Eyewear Designers and Brands: The Need for Plus Size Eyewear Campaigns
How many brands or retailers have you seen that cater, include, or feature plus size people in eyewear campaigns? Think about it. While there are unique elements in designing for plus faces, this is a segment of fashion that largely goes unnoticed.
 "Glasses are worn by people of all shapes and sizes, and it is essential to reflect this reality in advertising. By solely showcasing skinny models, eyewear brands inadvertently contribute to a distorted perception of who wears glasses, excluding a substantial portion of the population. Embracing diversity through the inclusion of plus-size individuals would send a powerful message that glasses are for everyone."

Autianna Wilson
The main advantage of featuring plus size individuals in eyewear campaigns is the ability to showcase how frames fit on wider faces with unique facial features. From Autianna's own experience, "Plus size people often have more prominent cheekbones, broader noses, and other facial attributes that differ from those of skinny models."
By using plus size models, brands can demonstrate how their frames accommodate a wider range of facial characteristics. This would empower potential plus size customers to make more informed purchasing decisions. This approach allows for greater transparency, as customers can visualize how the frames will look on individuals with similar facial structures.
Wouldn't you feel more confident purchasing from a brand whose models looked like you? Knowing how an item would look, marrying both fashion and function? We would never get enough of these plus size eyewear campaigns. Nope.
Autianna also speaks to what eyewear marketing should look like: "Inclusive eyewear marketing should encompass a wide range of body types, including plus-size individuals, because glasses are not limited to skinny people alone. By showcasing diverse faces and bodies, eyewear brands can challenge the dominant narrative and dismantle the harmful ideologies…"
With that ideal in mind, Autianna Wilson created this campaign using AI to help her shape the visuals of what she would like to see, and it is beautiful! She continues, "True inclusivity goes beyond tokenism and requires genuine representation of diverse ethnicities, body types, and backgrounds. Eyewear brands must take responsibility for their role in perpetuating societal beauty standards and actively work towards creating a more inclusive and empowering marketing environment."
We agree 1000%. Having representation in every facet of our lives is important! From Beauty campaigns, TV and Movies to Clothing and now, Eyewear, being able to see oneself is crucial and critical to affirming our beauty of our bodies.
To learn more about Autianna and what services she offers, visit Eyewearloveaffair.com!
What do you think about this AI-generated plus size eyewear campaign? The models, the looks, the outcome? Is this a campaign that would inspire you to shop from a specific eyewear brand?
Better yet, what challenges do you have when it comes to shopping for frames and glasses? Do YOU have any challenges that Autianna addresses in this campaign?