Finding a great pair of black boots is, in my opinion, the most crucial fall/winter footwear decision. While trendier silhouettes crop up season after season, the humble black boot has constantly been reimagined and refashioned to keep up with the times. Search my closet at any point in the last two decades, and you'll find not one but several different types of boots on hand—all of which are kept in my constant rotation, worn until the soles fall off and the heels are so run-down that they are beyond repair. 
Shopping for such an essential piece of your shoe wardrobe should not be taken lightly. In the best-case scenario, these are boots that you'll rely on year-round and for a multitude of occasions. Ankle boots, heeled or otherwise, are perfect for wearing to the office or daily life. Combat boots add edge to any look. Knee-high boots pair seamlessly with dresses and skirts no matter the length, a sentiment that Norstrom's Women's Fashion Director, Rickie De Sole, echoes: "Whether worn with a dress or jeans, knee-high boots are an essential shape that I live in. Flat knee-high boots are best paired with a mini or jeans, while a heeled version is perfect for adding polish to any outfit." Even a Western-style boot has surprising versatility these days.
Searching for black boots online can bring back hundreds, if not thousands, of results. The playing field is crowded, and with so many options, it's time to break down exactly what you should look for when shopping for a pair based on the expertise of women who wear and buy them the most. Here's your official guide to the essential styles for this year and the most essential silhouettes to keep in your rotation.
How to Shop for Black Boots
You should approach shopping for black boots like any other essential part of your wardrobe—by trying pairs on and seeing how you feel. "Black boots are like the jeans of footwear," says Lakyn Carlton, a virtual personal stylist from Los Angeles, California. "They match pretty much anything, and once you have them on, half the work of coming up with a great look is pretty much done." You may go into your boots shopping experience with an exact pair in mind, but testing out a variety of brands is the way to go. 
Start by examining your closet. See where you have gaps. Are your ankle boots on their last leg? Do you keep wishing that you had a funkier pair of boots to add a spark to your workwear ensembles? Do you need something with a heel? Would thigh-high boots take your going-out outfits to the next level? Going into a store (or browsing online) with a plan helps you discern what you like from what you don't and will stop you from making a hasty purchase that you might regret. Ahead, Carlton lays out a few key details to consider: 
Shaft Height: The boot shaft is essentially how much of the leg the boot is covering. This is "especially key when styling boots with skirts," says Carlton. "With longer skirts, you want the boot to extend above the hem of the skirt or "disappear" up into it both for warmth and a harmonious, sleek look," she says. 
The Material of the Boot: Leather and faux leather are not created equally. "Real leather is more breathable than fake, which is why you can get away with a leather boot in the summer without overheating," she says. 
The Material of the Sole: This might sound self-explanatory, but think about where you walk most. Soles are most commonly made from either leather or rubber. "Leather soles are easiest to get repaired and replaced, but a rubber sole is often more comfortable for those that do a lot of city walking," says Carlton. 
The Sturdiness of the Boot: Aside from shaft height, consider the sturdiness of your preferred boots. As their name suggests, slouchy boots will sit lower on your leg and fall throughout the day. Boots that hold their shape are made from stiffer leather material and might be more prone to rubbing where they hit the leg, so wearing thicker socks or tights will be helpful for your first few wears. 
How You Get Them On: Some styles, slouchier ones, in particular, don't come with zippers. Carlton recommends, "If you have wider calves, especially, you may want to avoid pull-on styles."
With that in mind, keep scrolling to shop all of the best black boots as hand-selected by our team of experts and editors alike. This list is the perfect place to find your favorite pair, from under-$500 winners from brands like Franco Sarto and Sam Edelman to splurges from Prada.
The Best Black Boots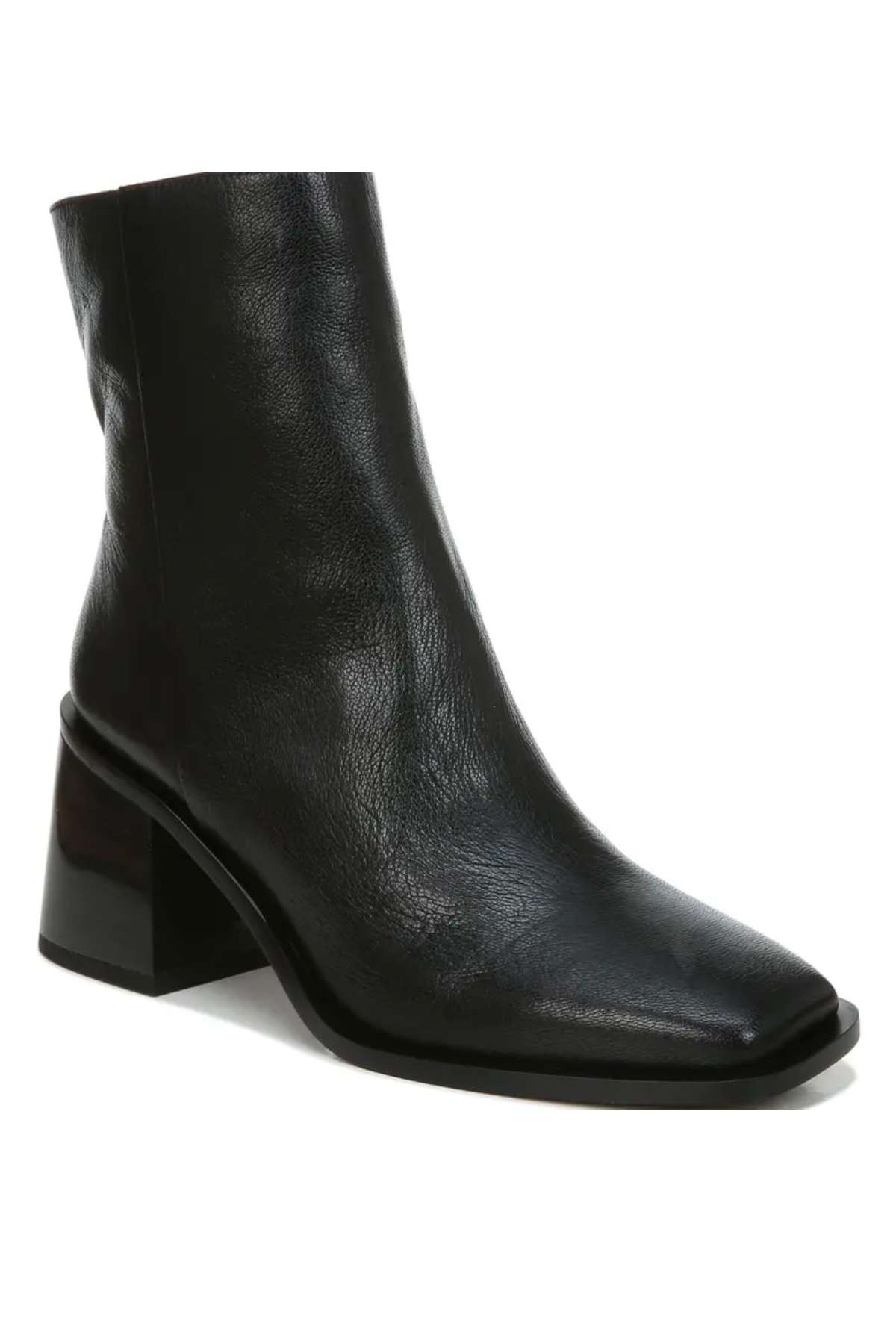 Best Overall Black Boots
Sam Edelman Winnie Bootie
"I'm certain these Sam Edelman boots may be the perfect, all-around black ankle boots you can find. They have a chic, simple design that isn't overtly trendy, which makes them the ideal boot to wear year after year. They're also great if you're anything like me and can't stand a heel bigger than three inches. These come in at 2 3/4″ so you can comfortably walk in these for miles." — Brooke Knappenberger, Associate E-Commerce Editor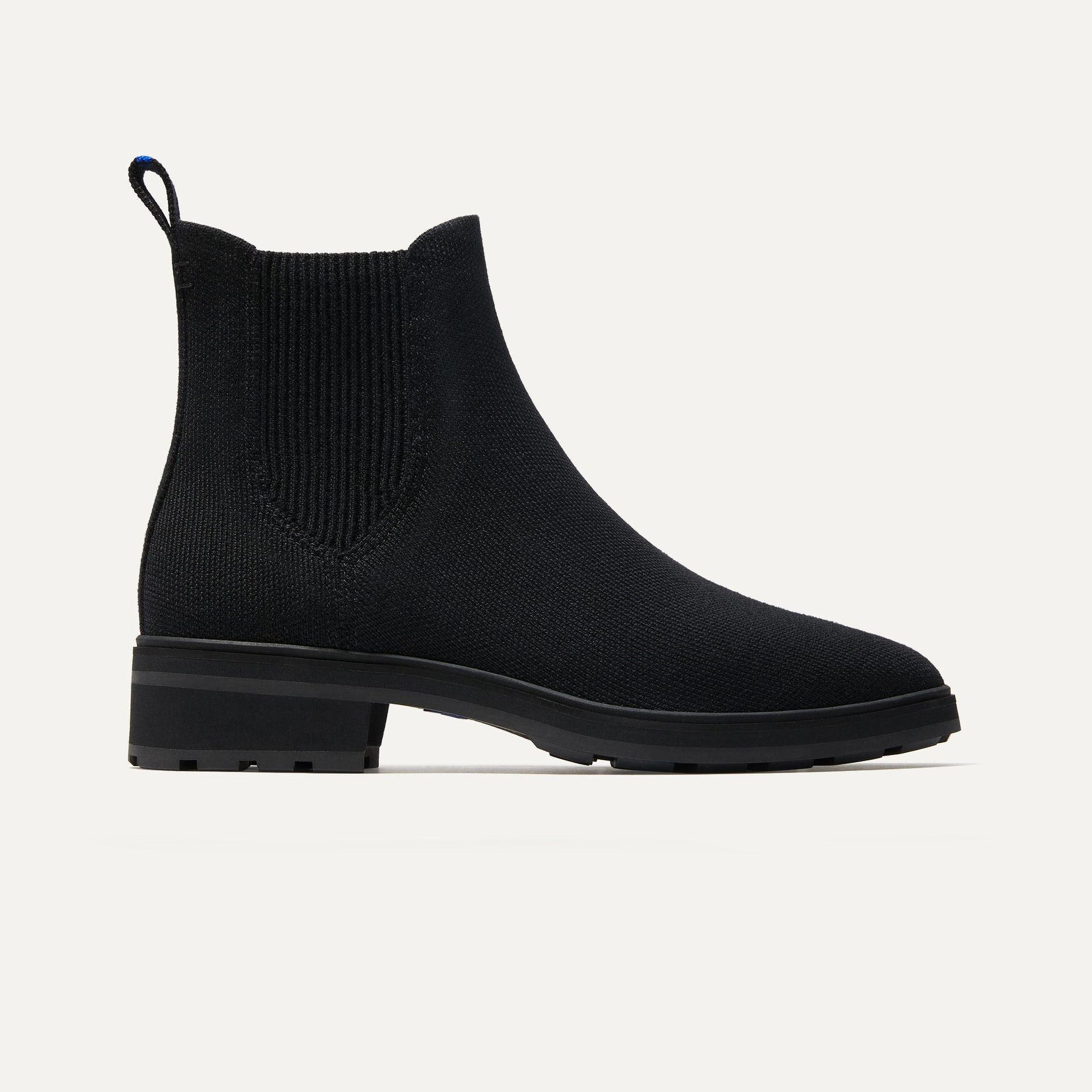 Best Ankle Black Boots
Rothy's The Lug Boot Onyx Black
"Did you know that Rothy's makes lug boots now?? (The scream I screamed when I found out!) I am a long-time Rothy's devotee, but their boots are a special level of comfort. The water-resistant knit stretches to fit my flat feet but doesn't stretch out over time. The classic almond-toe shape here means I can wear this with virtually anything, from a maxi denim skirt to my cigarette-style jeans. They also come in a tall version, currently on my wishlist as the knit riding boots of my dreams." — Katherine J. Igoe, Contributing Editor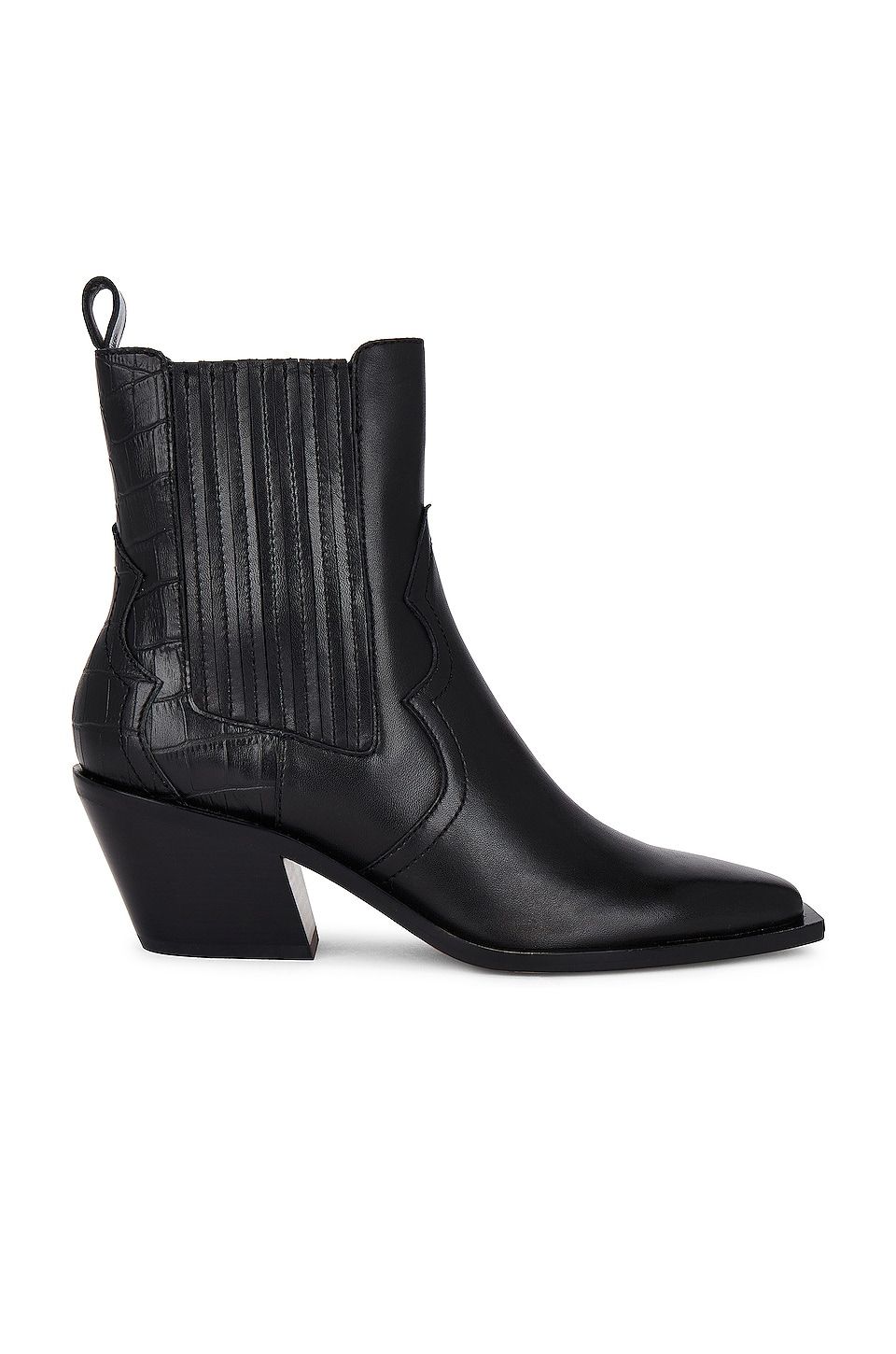 Best Affordable Black Boot
"Another black boot I love to have in my arsenal (and I have many) is this cowboy-esque ankle boot. They're a bit trendier, but you can't deny they look seriously cool. The pointy toe and Western stitching are my favorite details, but I also appreciate the modest heel so I can walk comfortably. In short, these are the boots I throw on when I want to spruce up a basic outfit." — Brooke Knappenberger, Associate E-Commerce Editor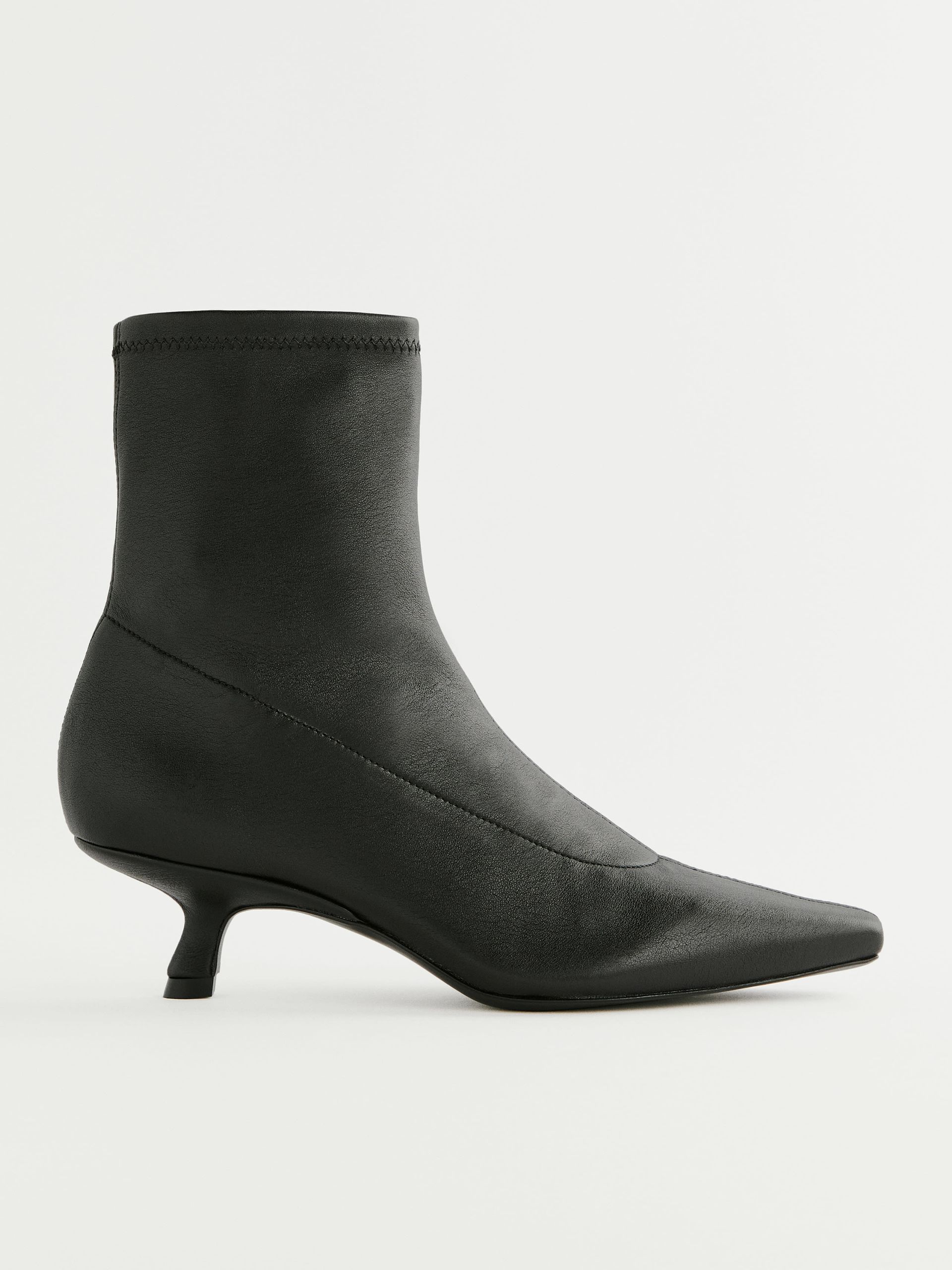 Best Black Ankle Boots
Reformation Onya Ankle Boot
"The kickstand boot has got to be one of my favorite trends of all time: What a cool way to take a standard stiletto and give it a new shape. I also love Ref's kitten-heel options—they really understand girls like me who cannot handle heels that are too high. So this is really the Hannah Montana boot: the best of both worlds, obv. It's also a glove boot style, which means it fits under any trouser or jeans, and the pointed toe somehow does not pinch my toes." — Katherine J. Igoe, Contributing Editor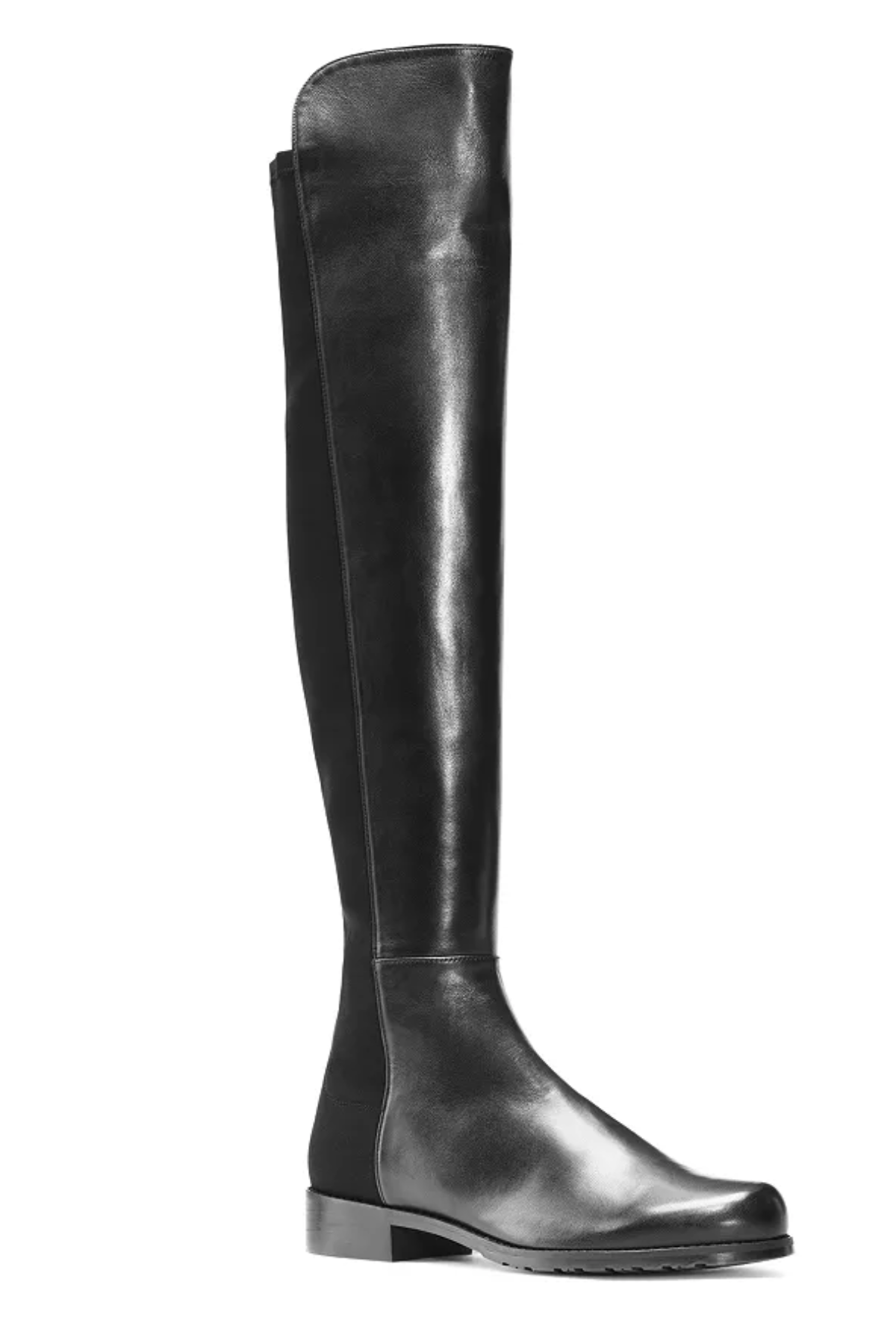 Best Over-The-Knee Black Boots
Stuart Weitzman Women's 5050 Over-the-Knee Boots
"I used to dream about these boots in high school, so to be able to own them is the definition of a dream come true. While they also come in suede, I opted for the leather option because I figured they would last better in the wet winters that New York normally brings. They're lightweight and sturdy with an elasticated fabric at the back to make getting them on a breeze. I'm five-foot-two, and I was worried they would be too long on me, but I am happy to report that they sit right at my knee. The sole is sturdy but lightweight. I wear them every week, and they have shown no signs of wear." — Julia Marzovilla, E-Commerce Editor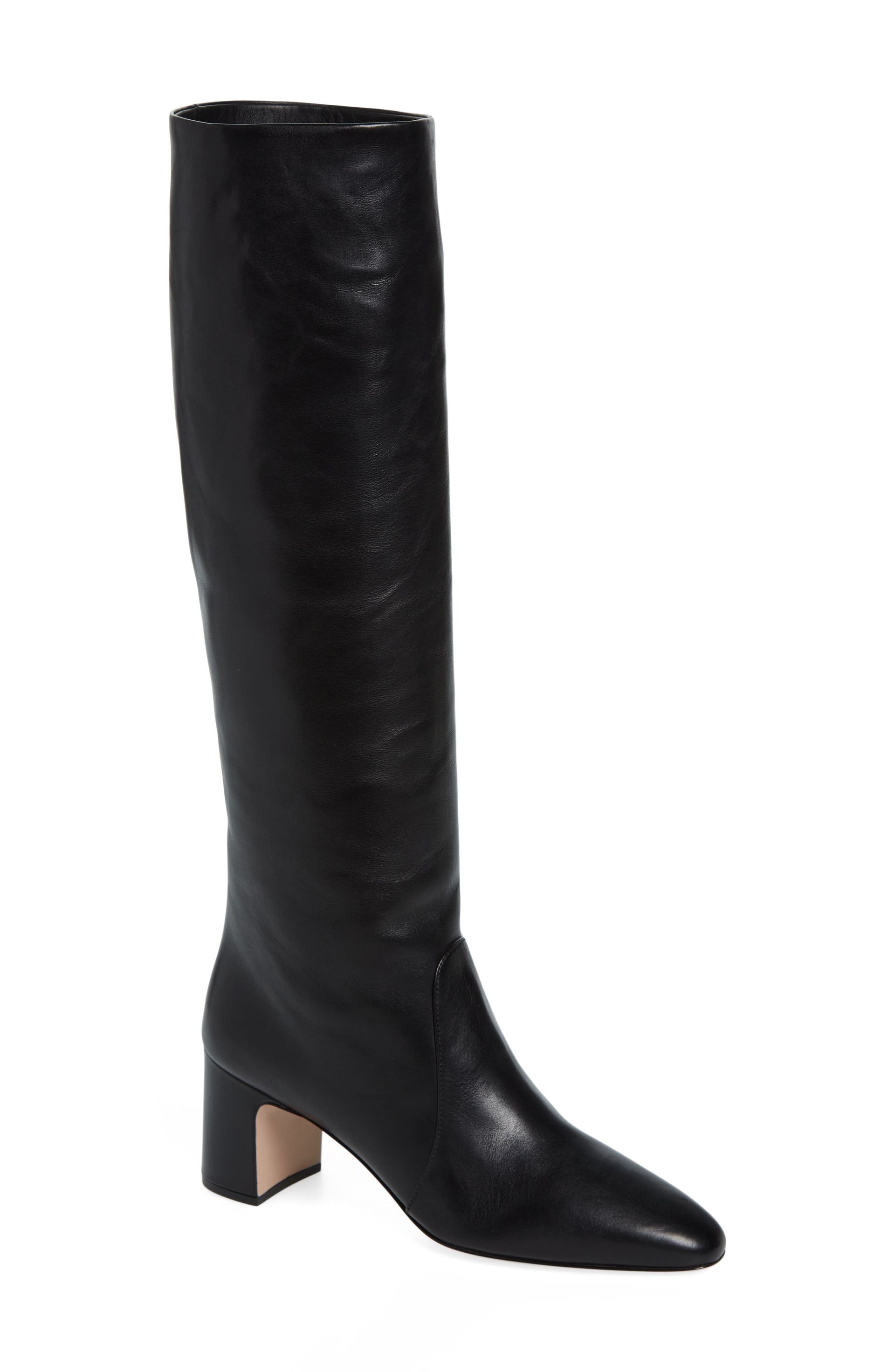 Best Designer Black Boots
Prada Tronchetti Block Heel Knee High Boot
"As soon as fall rolls around, I find myself hunting for a great black boot. Thankfully, I found mine early this year in this Prada block heel style. The narrow toe has the perfect round meets square shape that feels timeless and clean, and the 2 1/2 inch heel is just high enough that I can run around the city all day long without any pain, and the knee-high shaft sits just right with my endless rotation of midi length dresses and skirts." — Rickie De Sole, Nordstrom Women's Fashion Director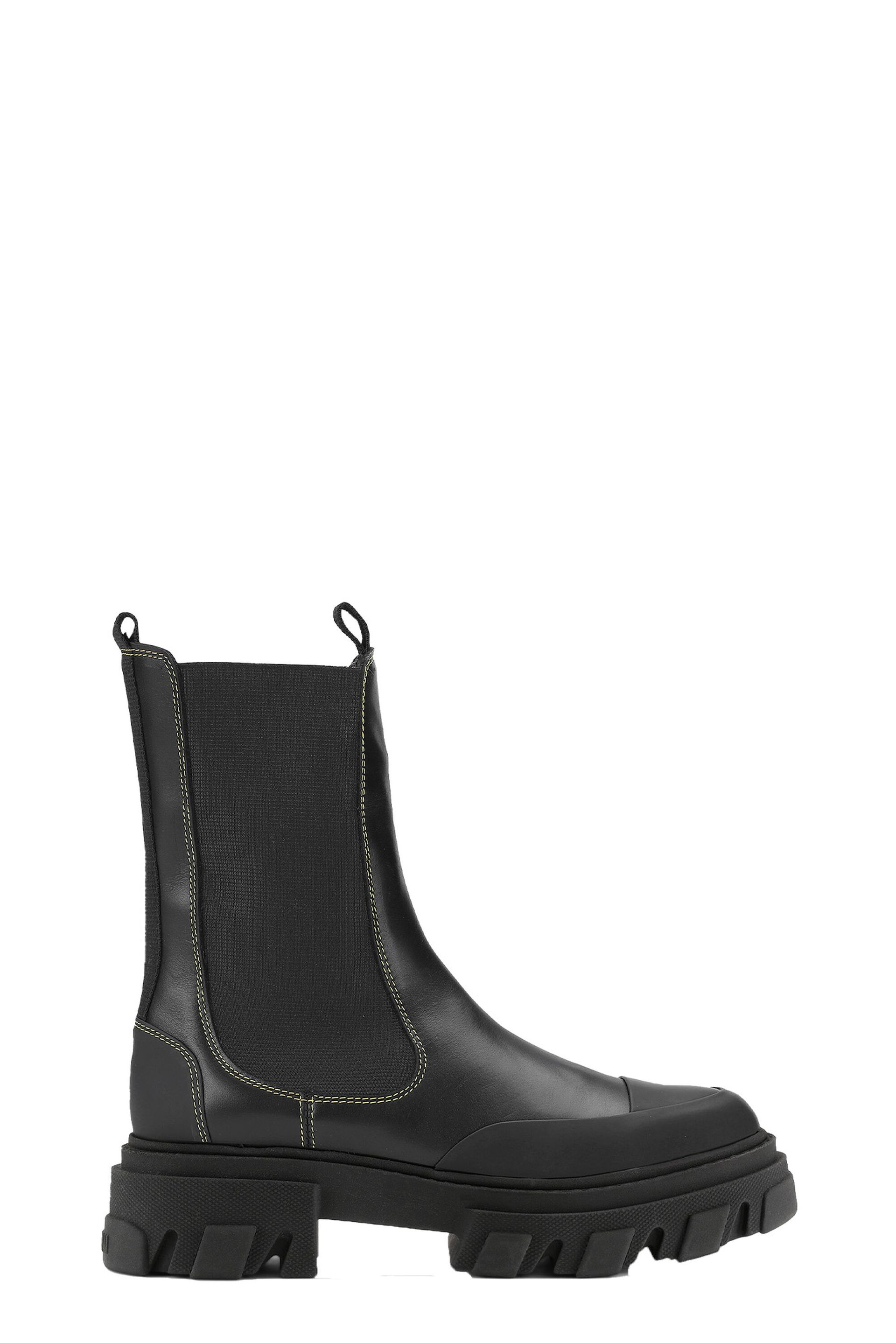 Best Black Chelsea Boots
These GANNI Chelsea boots are a fashion-girl favorite because they easily double as chic rain boots. They define elevated comfort from the sturdy rubber lug sole to the easy-on-easy-off elasticated sides. The fashion set relies on them season after season for all-day comfort in even the most frigid winter temperatures, although they work just as well styled with a summery dress if you're anti-sandal or live in a place where sandals. It can be tricky to wear, like New York City.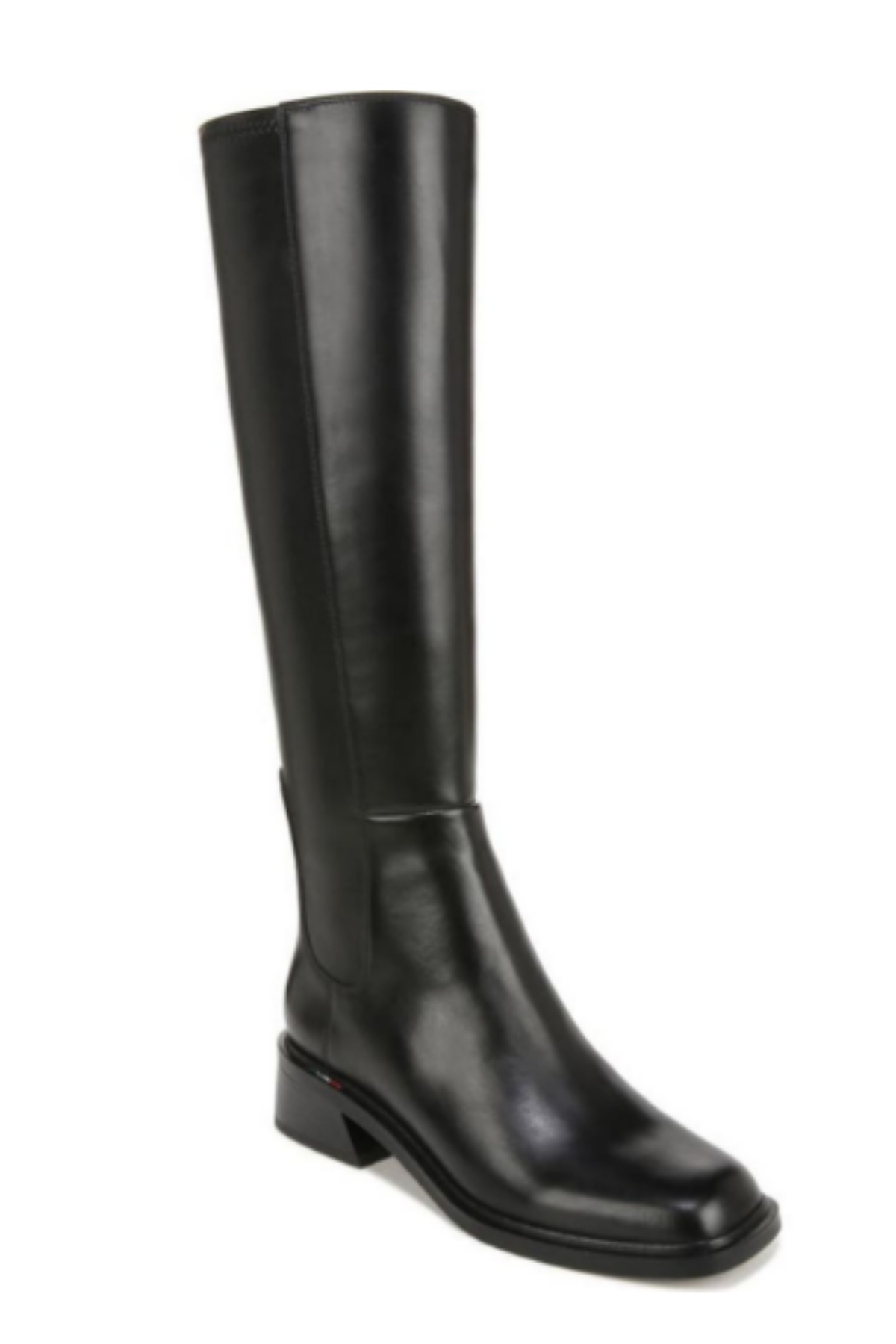 Best Knee-High Black Boots
Franco Sarto Giselle Knee-High Boot
These fan-favorite knee-high boots from Franco Sarto are great (and nearly impossible to find in stock), so act quickly. They come in half-sizes (a major plus), fit close to the leg, and come in a few other colors besides black, although the black pair is my wear-everywhere favorite. They even come in a wide-calf option and have a zipper closure at the back.
Customer Review: "The most comfortable boots I've ever worn! I didn't need any break-in and wore it on my trip that involved intensive walking—exceeded expectations. So soft and hugged my calves and feet perfectly. Would recommend." — Macy's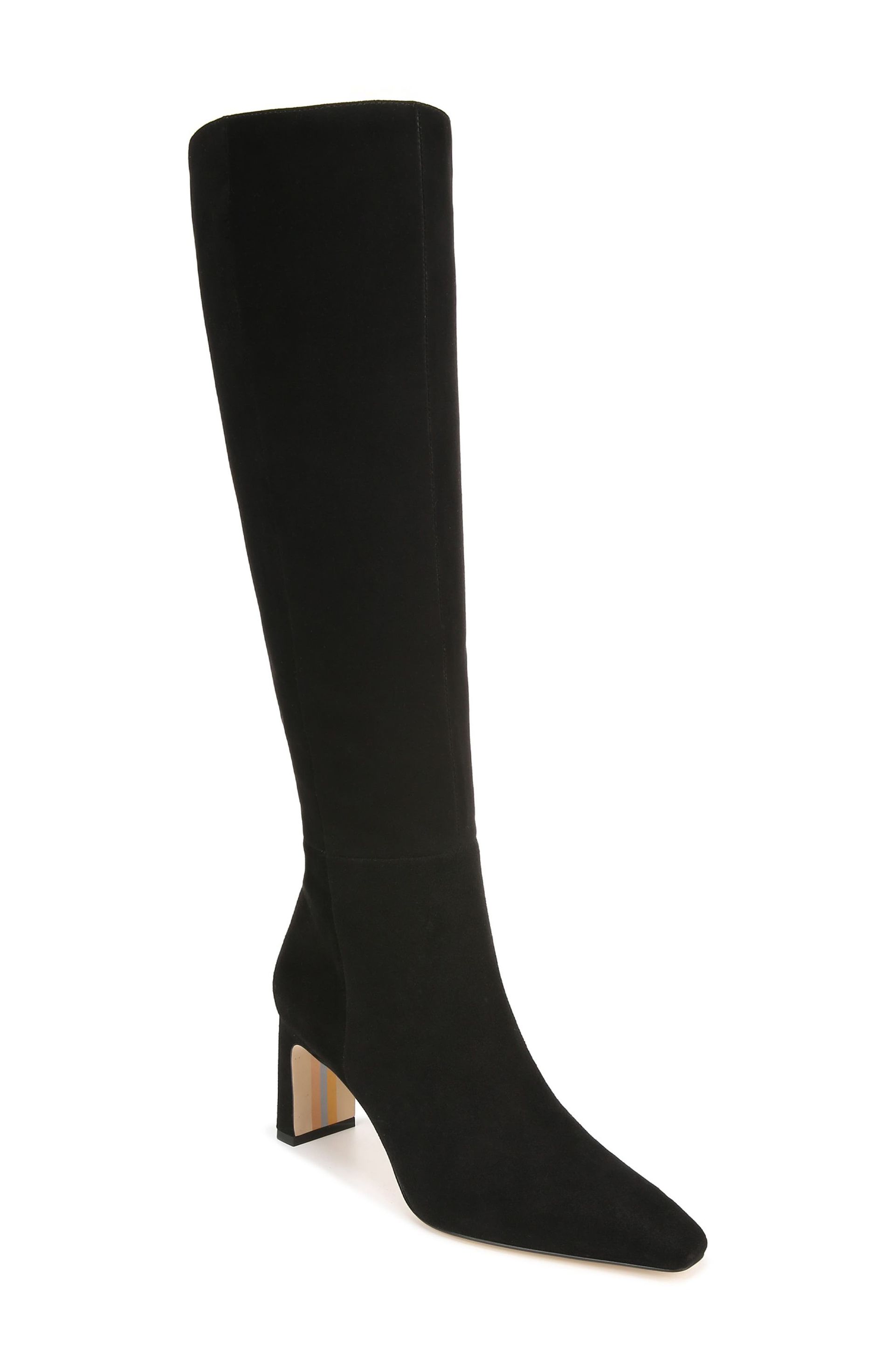 Best Suede Black Boots
Sam Edelman Sylvia Knee High Boot
Reviewers love this pair of suede knee-high boots from Sam Edelman for their quality and flattering silhouette. Available in sizes five through 11 and half sizes, they're the perfect boot for a more formal occasion thanks to the luxe-feeling suede fabrication. The three-inch heel is also manageable if you're not a regular Carrie Bradshaw-level heels-wearer. Well-priced at $200, they are outfitted with a durable rubber sole to last you many seasons.
Customer Review: "I can't tell you how many compliments I've gotten the first time I wore these!!!! They were very comfortable; I didn't feel like I had to break them in. There was slight discomfort around my big toe after running around a hospital all day. They look great with both pants and dresses/skirts." — Nordstrom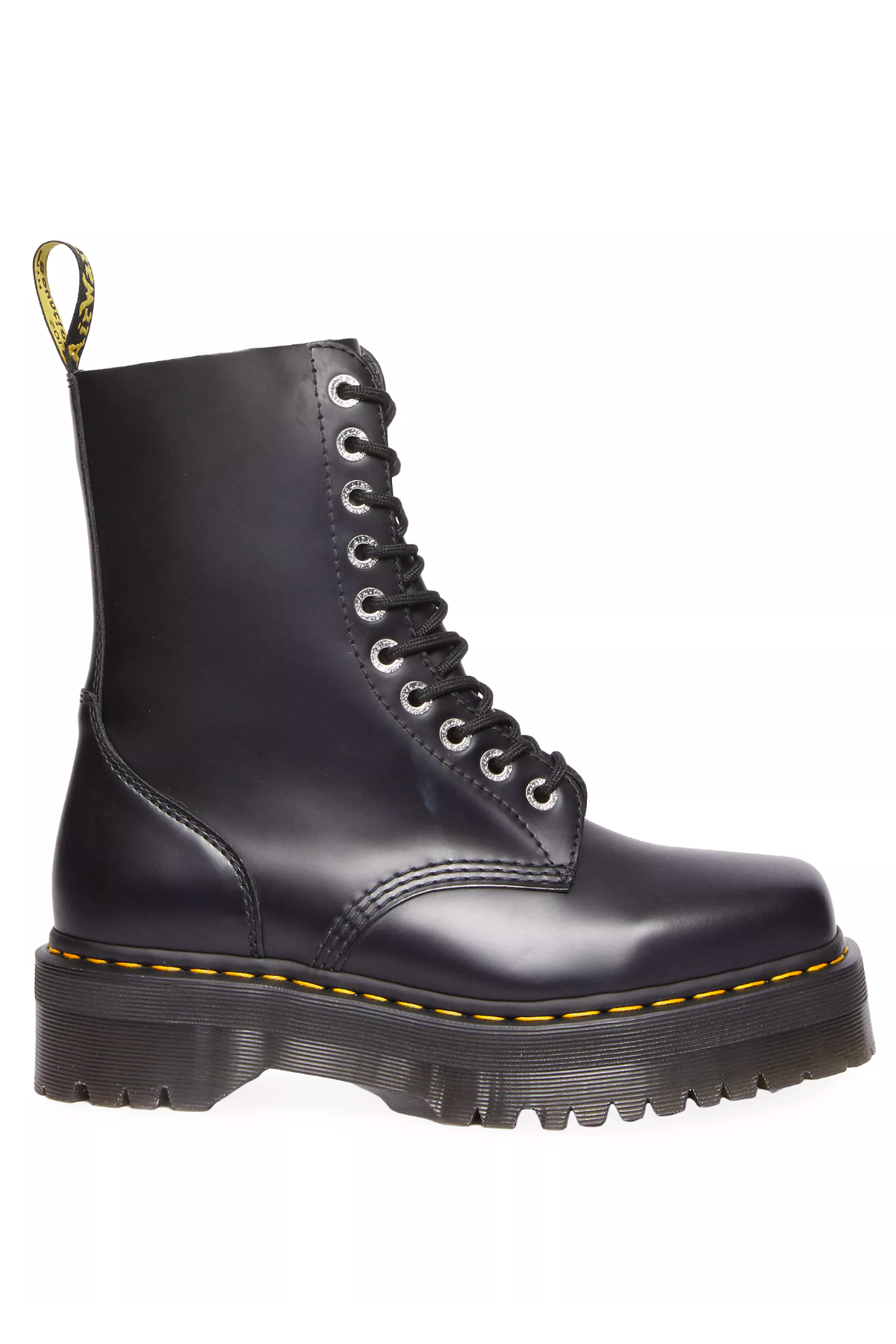 Best Black Combat Boots
Dr. Martens 1490 Quad Leather Square-Toe Boots
While, yes, boots from British brand Dr. Martens take a while to break in, they are well worth the time (and the blisters). This pair is named for its jumbo "Quad" platform and is beloved by city slickers as a cool alternative to snow boots. The leather is known because it literally molds to your foot as you wear it, too, so it receives top marks for comfort and durability after the break-in period. Shop this pair in UK sizes five through 12 now. They don't come in half sizes, so keep that in mind as you shop.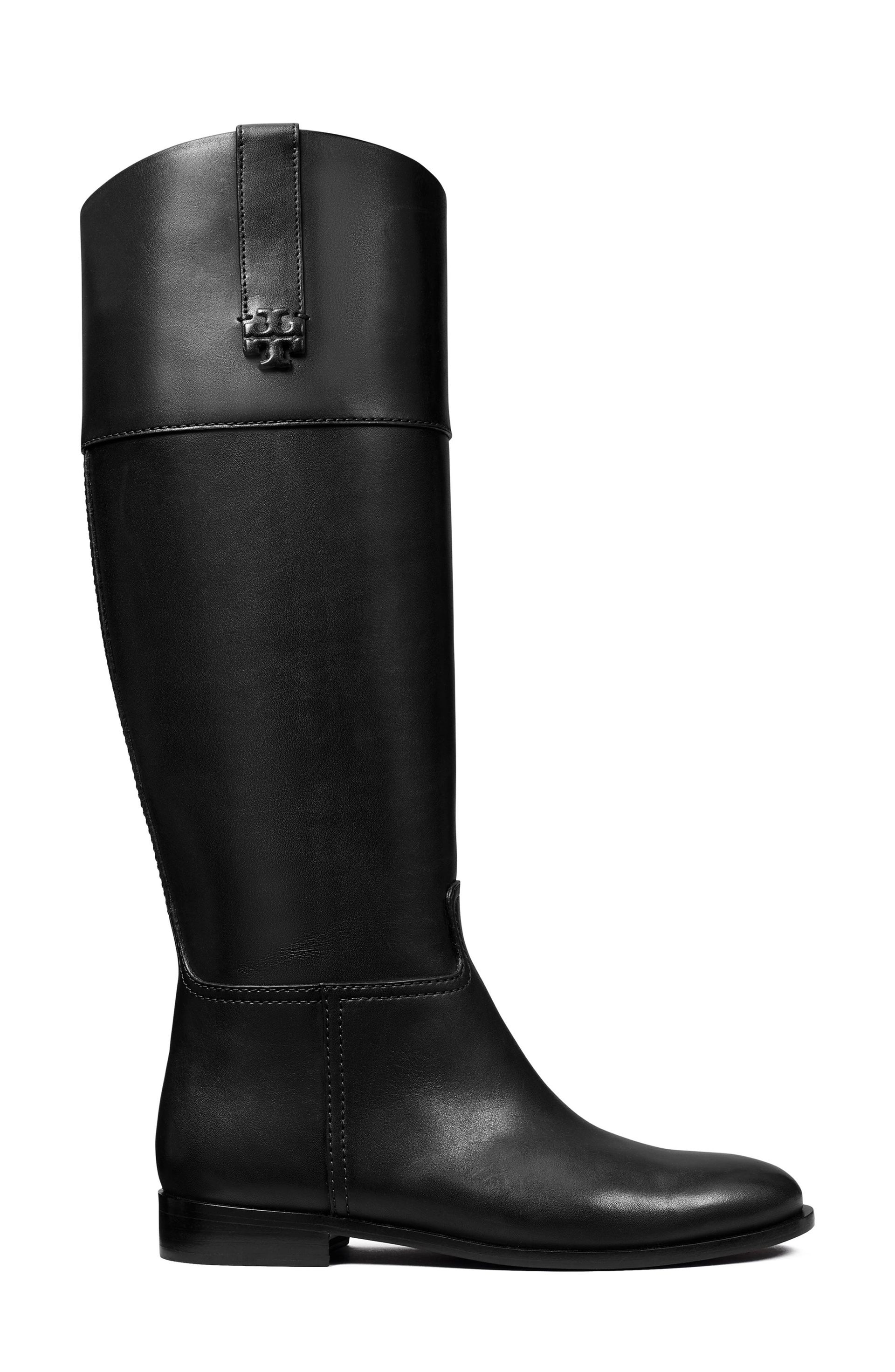 Best Black Riding Boot Riding Boot
"For something elegant and extremely walkable, I love these Tory Burch riding boots, which are minimal in design and detail," says De Sole. Available in three black color combinations, they're the perfect preppy pick. These have a wide-calf design, so keep that in mind when you shop. From the subtle branding to the sleek round-toed design, they're perfect if you want a pair that you can easily tuck skinny jeans or leggings into.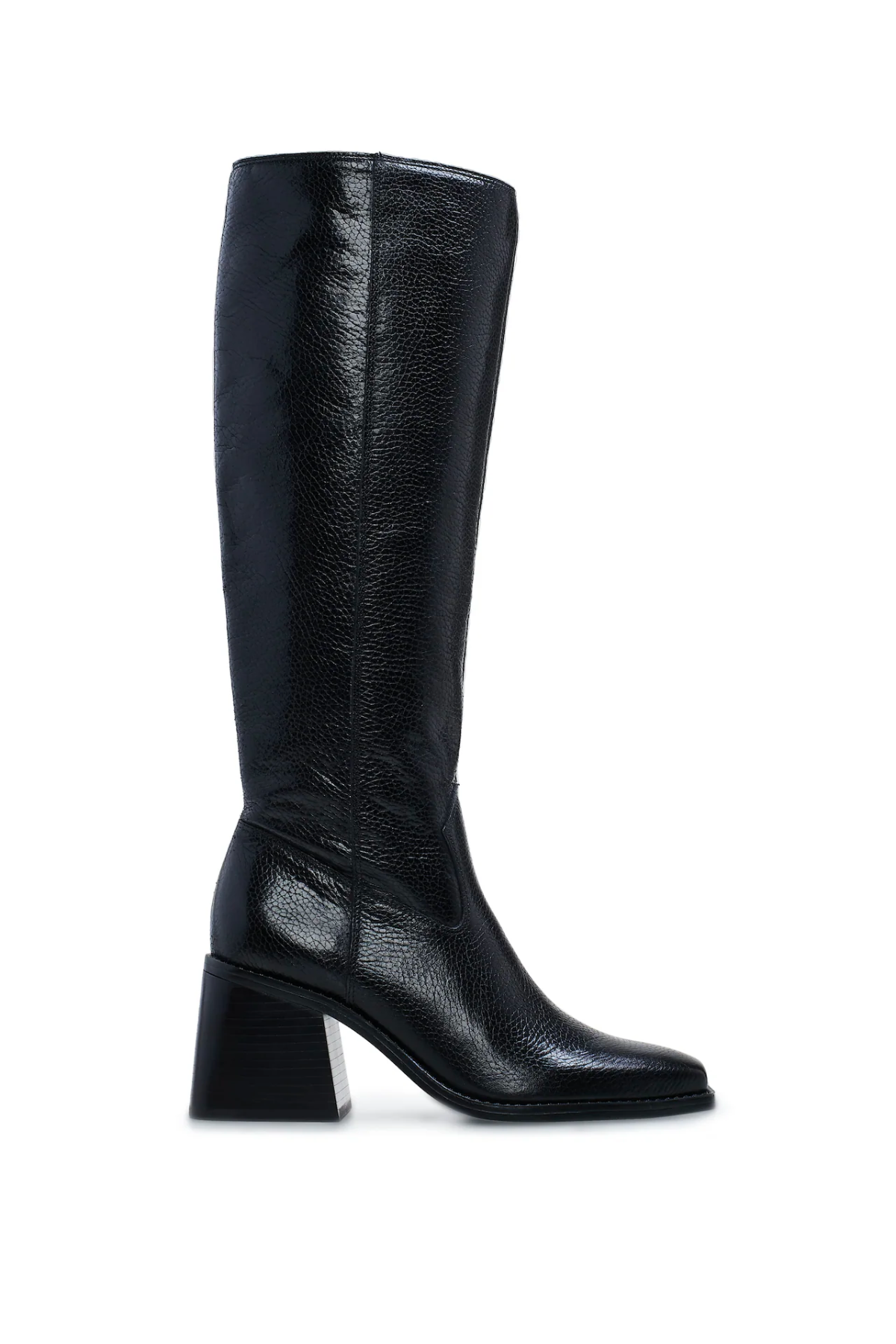 Best Wide-Calf Black Boots
Vince Camuto Sangeti Wide-Calf Boot
These are genuinely the wide-calf boots seen around the internet. I saw one (and probably one thousand) videos raving about them on TikTok and quickly found out that they're nearly never in stock. Save for Zappos, but act fast before they're gone again. The shaft circumference measures 14.2 inches, and the height is 15.9 inches. Add the three-inch (very walkable) heel, and you've got a classic boot for the ages.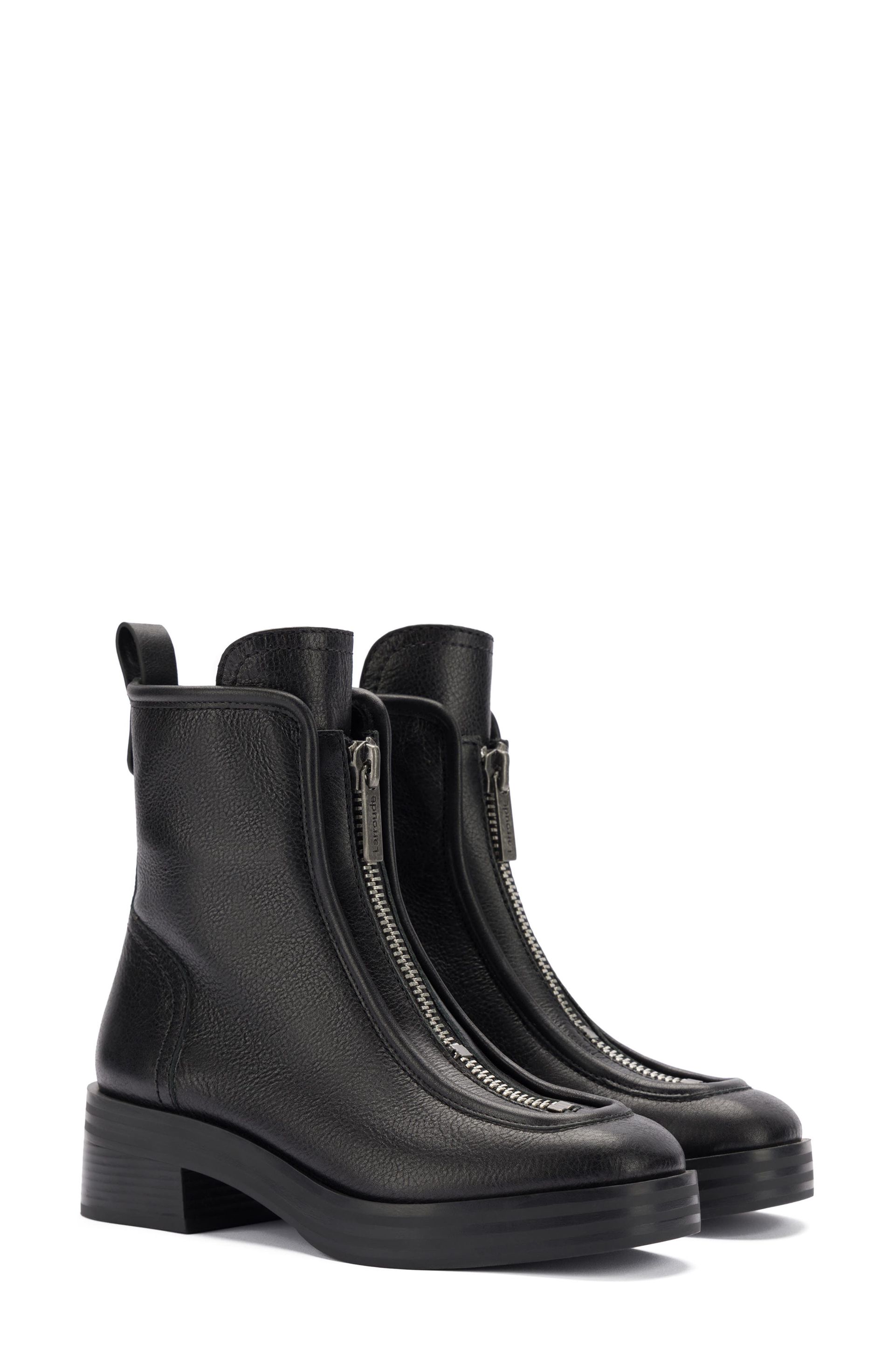 Best Black Moto Boots
Larroude Nicole Lo Bootie
This black ankle bootie from former fashion-director-founded brand Larroude "balances out an otherwise feminine look with this heavy-duty boot," raves De Sole. They're low-profile enough to wear every day but add a touch of edge to an otherwise sweet ensemble courtesy of the zipper-front design. Or, team them with a pair of ruffled or fuzzy socks for even more balance. They're also detailed with comfortable accents like a foam sole and a short, sturdy heel.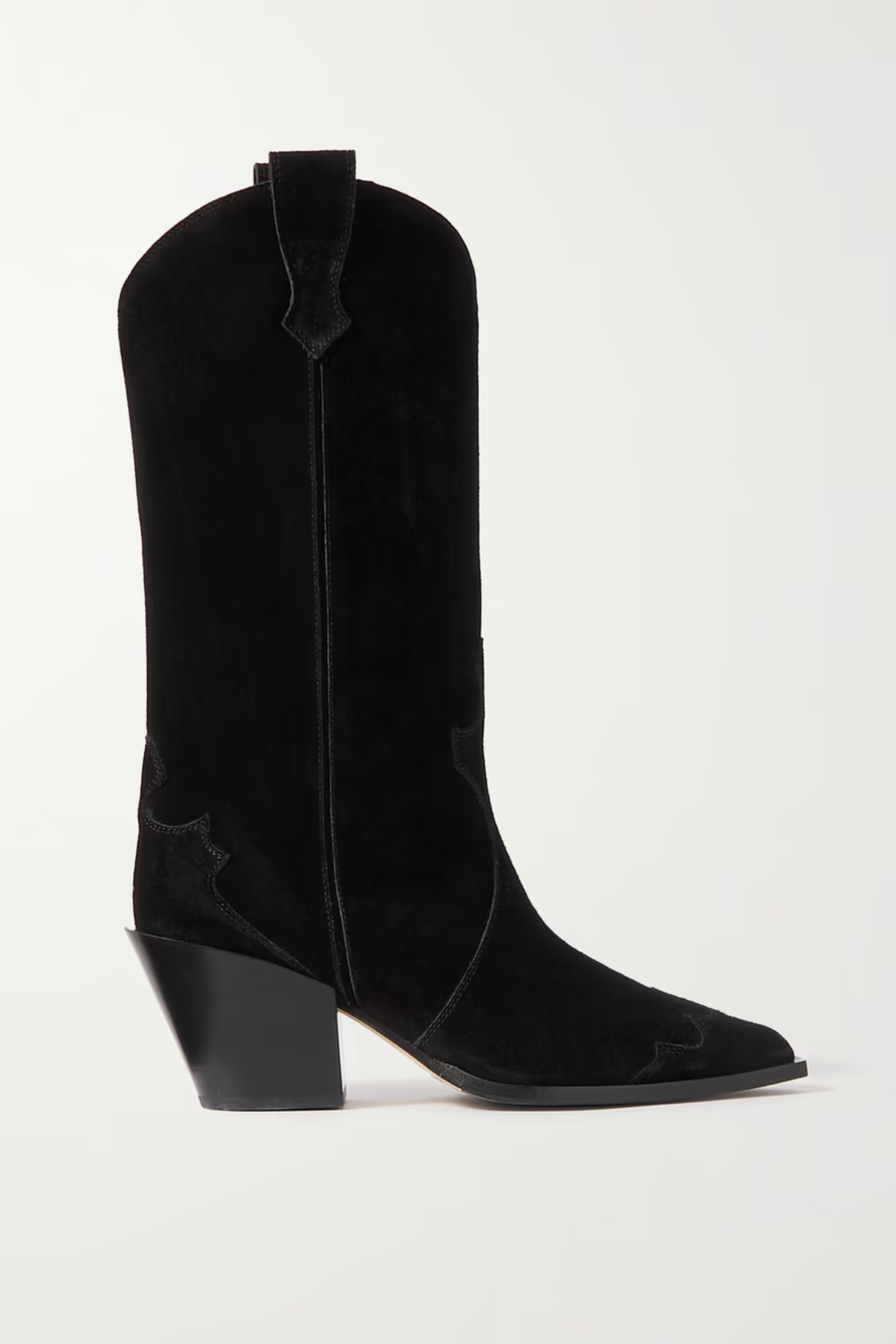 Best Western Black Boots
AEYDE Ariel Suede Cowboy Boots
Let it be known that western and cowboy-inspired boots have solidified themselves in the fashion insider's footwear rotation. This pair from insider-adored brand AEYDE has a fashionable twist on the workwear-inspired style thanks to the fact that it's made from a luxurious suede material. They also come up just below your knee rather than hitting at knee height, making them great to wear under midi skirts and dresses. However, the more comprehensive calf design makes tucking in your jeans (and wearing warm fuzzy socks in the winter). a dream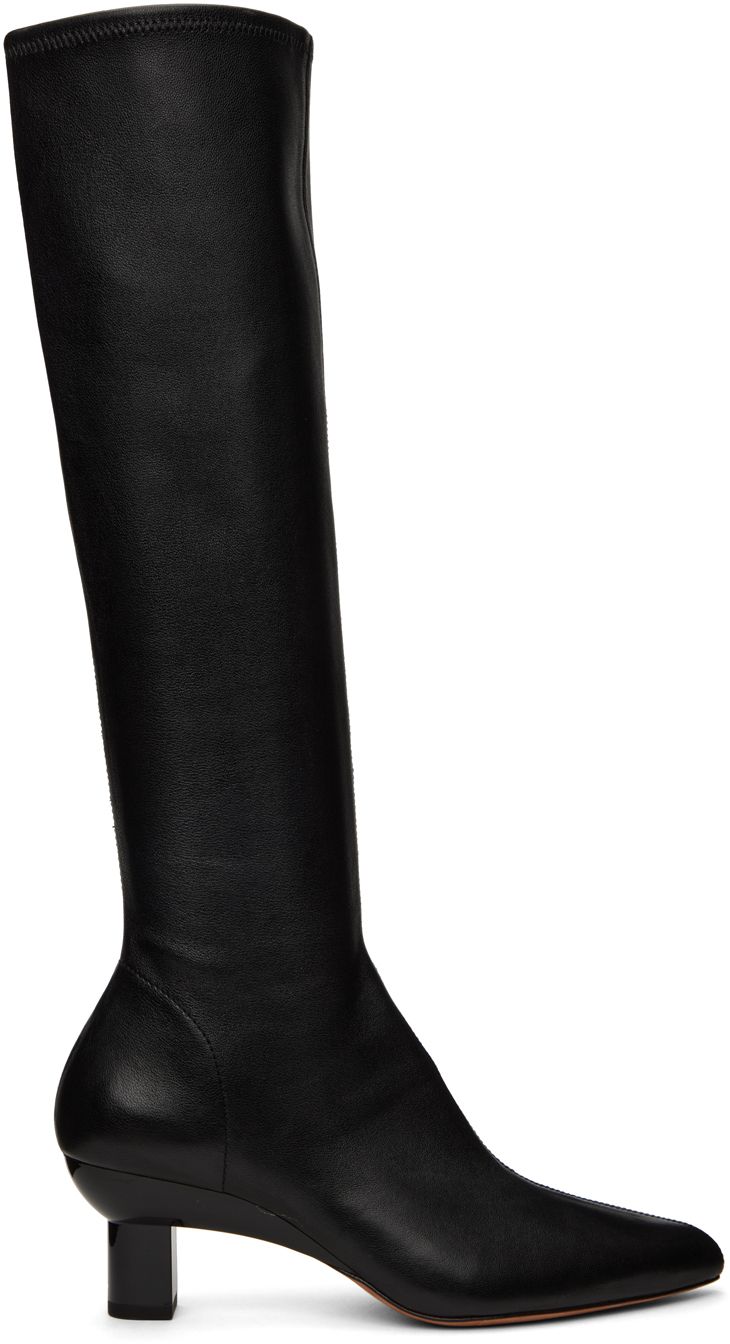 Best Slim Black Boots
3.1 Philip Lim Black Verona Tall Boots
"I traditionally live for summer shoes—sandals, slides, and open-toed heels are my happy place. I dread the transition to boots. That all changed this year when this fabulous pair of Philip Lim 3.1 boots came into my life. The heel is shy of two inches, making them insanely comfortable; the leather is soft as butter, and the design hugs my leg in the most flattering way. They're tight enough to sneak under wide-leg jeans but look stunning with a long skirt or short dress. They're my most prized possession—and a worthwhile investment." — Samantha Holender, Beauty Editor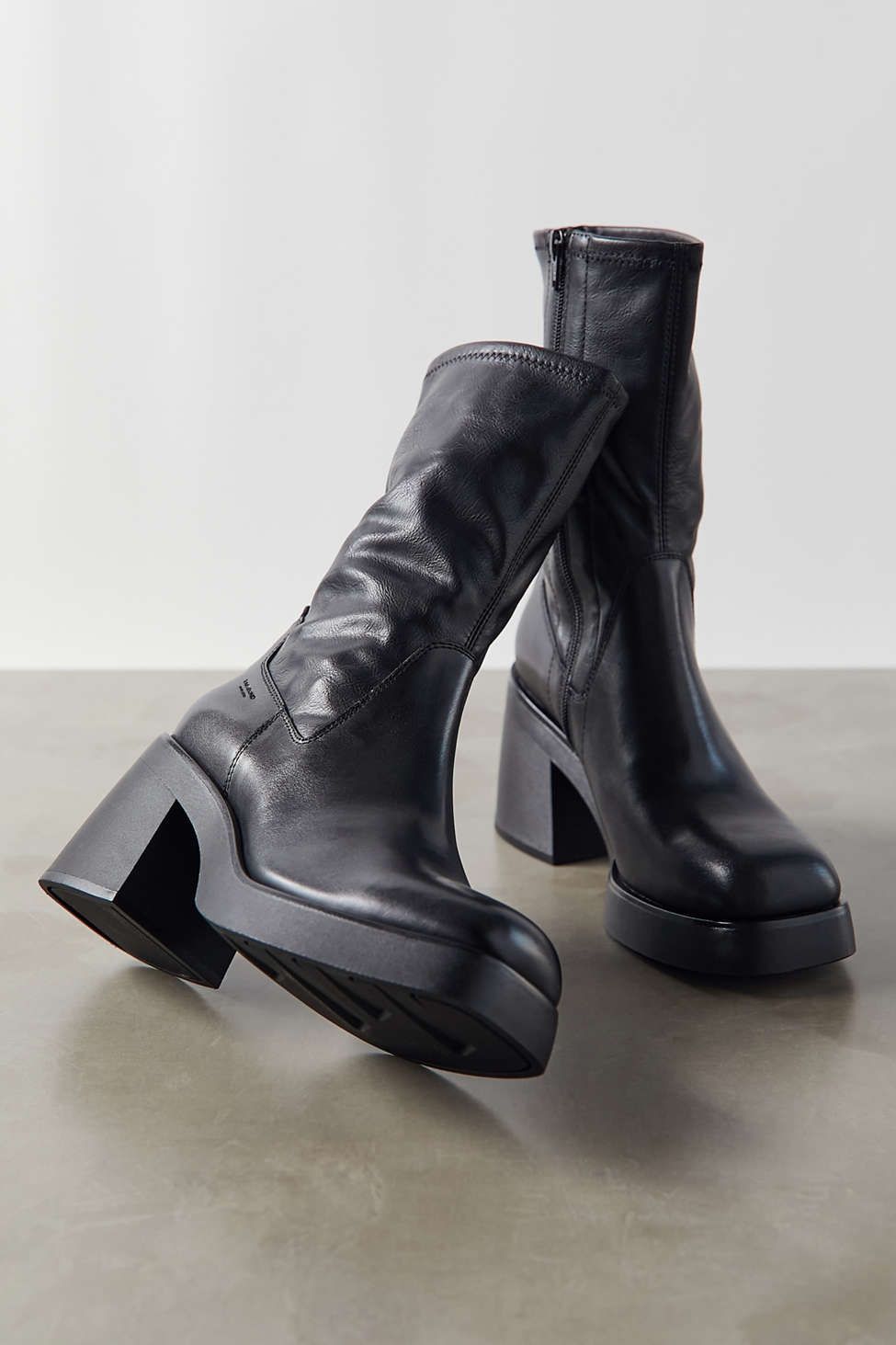 Best Black Platform Boots
Vagabond Shoemakers Brooke Mid Platform Boot
The platform is minimal on this pair of boots from Vagabond Shoemakers, but they are certifiably a platform bootie, as the name suggests. They received rave reviews from shoppers who say that they run true-to-size and versatile in the styling department. While some reviewers noted a break-in period, others claim they're comfortable from the get-go. The close-to-the-ankle design makes wearing them under jeans easy because they won't add bulk. Shop them in European sizes 36 through 41.
Customer Review: "True to size. I'm an 8.5, and the nine fits well with a little bit of room. The quality Is amazing. They seem super durable. I don't find them too narrow, and I'd say I have a "typical" foot shape. They have a great shape. Slightly edgy/clunky but flattering and elegant." — Urban Outfitters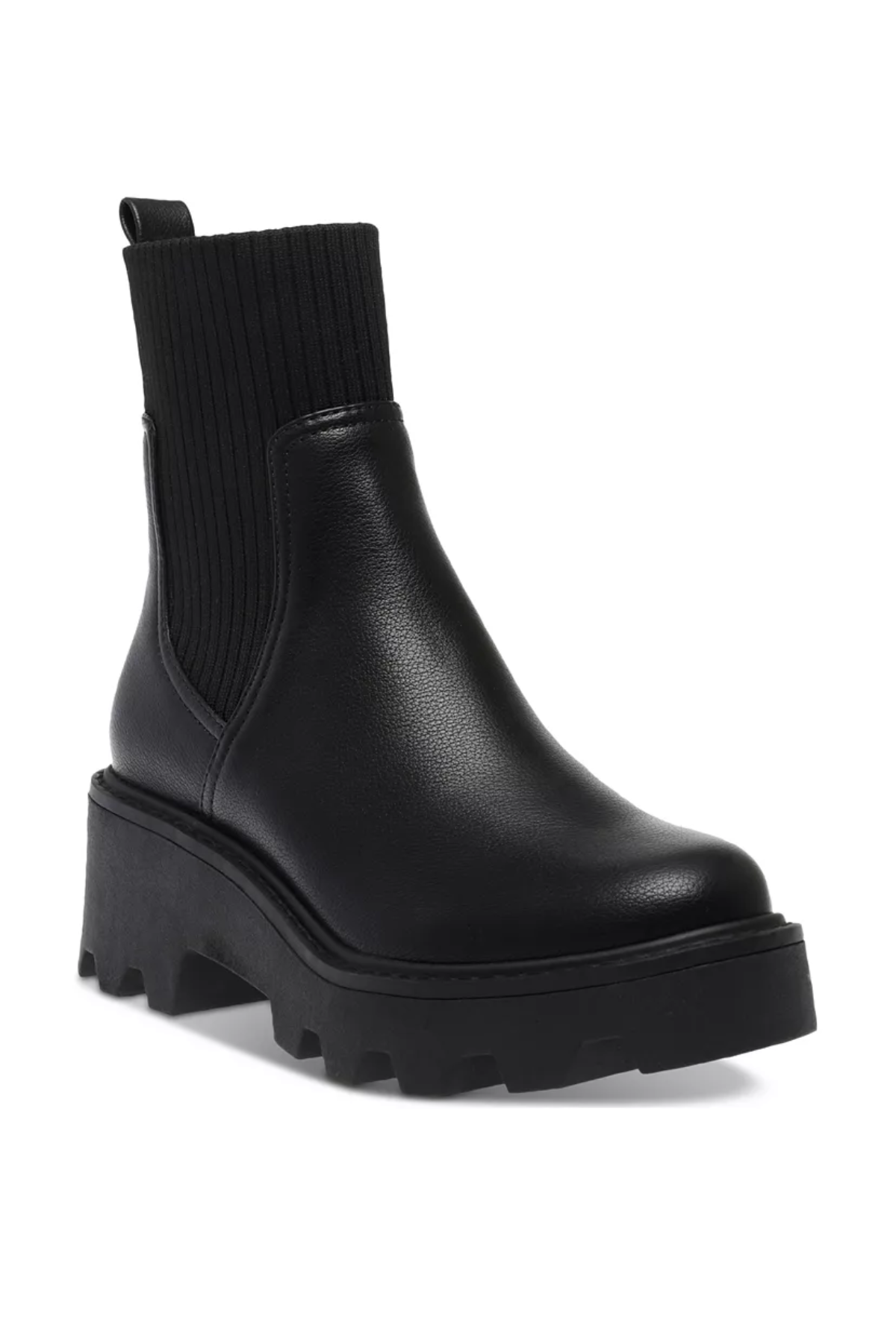 Best Affordable Black Boots
DV DOLCE VITA Women's Villa Chelsea Lug Sole Booties
"These are my go-to everyday boots. It's a classic Chelsea boot that goes with everything. I'm on the shorter side, so I love having a platform heel. The platform on these boots is lightweight and not too bulky. I can wear them for long periods, and my feet won't hurt at the end of the day." — Jonelle Afurong, Junior Visual Designer
Meet The Experts
Rickie de Sole is the Women's Fashion Director at Nordstrom.
Lakyn Carlton is a virtual personal stylist based in Los Angeles with background in both theatre costume and fashion design. After a major setback in the form of losing her entire wardrobe during a move, she sought to build a better relationship with clothing and shopping, and now, she educates others on doing the same without having to sacrifice all the fun parts of getting dressed. She thinks about clothes…a lot.